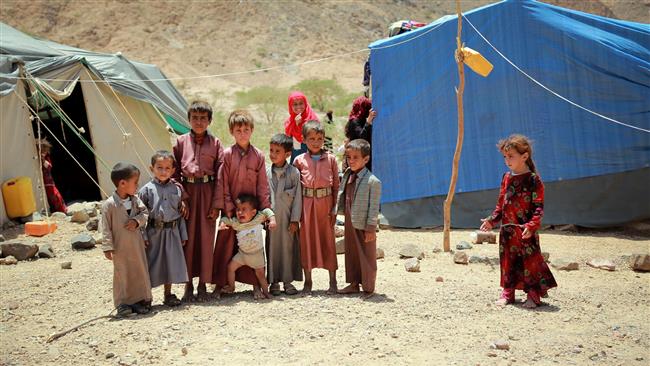 Al-Thawra Net
The United Nations says 10,000 of Yemeni children, all under five years of age, have lost their lives during the past year alone.
The deaths were caused by "totally avoidable and preventable diseases" such as diarrhea and pneumonia, UN spokesman Stephane Dujarric said Wednesday.
Yemen has been under Saudi military attacks almost on a daily basis since March 2015, which have killed thousands and destroyed the country's civilian infrastructure, including hospitals, schools, and factories.
Dujarric said the heavy loss was due to the closure of hundreds of health centers and the total collapse of the healthcare system in the war-torn country.
"The overall healthcare system throughout Yemen has all but collapsed, over 600 health facilities closing their doors due to the lack of financial resources to procure medicine, supplies and fuel for generators," he said, adding thousands of medical staff have gone unpaid or left Yemen.
"This suffering should, however, turn into an incentive to reach a rapid and comprehensive solution as we approach the month of Ramadan," he said.
UN special envoy Ismail Ould Cheikh Ahmed also said reports from several cities showed the horrifying magnitude of the suffering that the Yemeni people are going through because of shortages in basic services.
In a March report, the UN Children's Fund said a year of Saudi war on Yemen had left 934 children dead and 1,356 more injured, with an average of six children suffering casualties every day.
The report said some 320,000 children faced acute malnutrition, a serious case which can leave a child vulnerable to deadly respiratory infections, pneumonia and water-borne diseases.
In a similar report in March, Save the Children, a non-governmental organization, said about 90 percent of children in Yemen needed emergency humanitarian aid.
Dujarric urged the warring parties to make concessions and put the interests of Yemen and Yemenis above all.