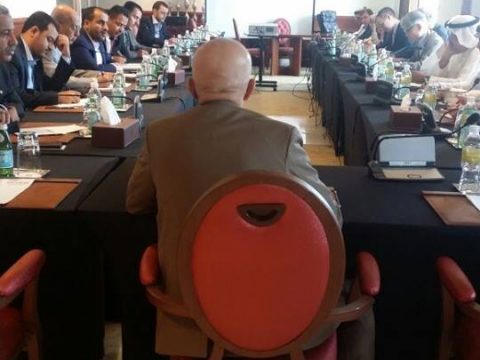 Al-Thawra Net
August 2nd, the national delegation in Yemeni Peace Talks met the ambassadors of the 18 countries supporting the political settlement in Yemen.
During the meeting, the national delegation explained its visions that was presented in consultations including political, military, security, humanitarian and economic aspects, emphasizing its commitment to a comprehensive, complete and non-fragment solution.
The national delegation stressed that Yemen after a year and a half of the brutal Saudi-led coalition aggression and unjust blockade does not assume fragmented solutions, "Yemen needs a comprehensive solution to end the Saudi aggression, lifting the blockade and achieve the national partnership."
It confirmed its keenness on achieving peace at a time the Riyadh's delegation worked to obstruct the consultations since the first day by suspending or its withdrawal from the sessions until they left Kuwait yesterday.
National delegation indicated that  the agreement that was signed in Sana'a to form a political council will not affect the national delegation position and they are ready to singe a full and comprehensive lasting agreement.
The national delegation renewed its call for the international community, headed by the United Nations and Security council to hold responsibility of ending the suffering of the Yemeni people.