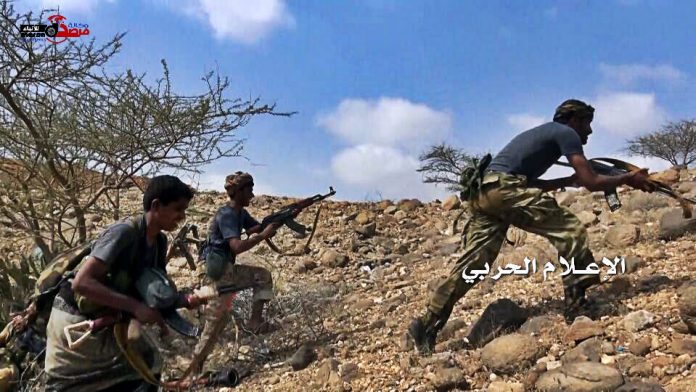 Al-Thawra Net
The army and popular committees achieved field victories during the past few hours in various internal and borders fronts .
A military source confirmed  to the Yemen News Agency "SABA" that  a number of Saudi soldiers killed and wounded when  the heroes  of the army and popular committees broke into  alshsje position in Najran .
"Two control positions were bombed, and a Saudi Bradley armored vehicle was destroyed by a  guided missile in Alhgelh control  position that led to the death of its crew," the source added.
The source said that the artillery of the  army and popular  committees targeted gatherings and positions  of the Saudi army in many areas in Najran , bombed a gathering of vehicles of the Saudi army in Sudanh Jizan and also targeted gatherings in ealb port,  alshshabakah and the governmental compound  in al-Rabuah Assir .
The Source pointed out that a large numbers of the aggression mercenaries killed  and injured  in an attack by the army and popular committees on their positions in Nihem.
In Taiz province , two mercenaries killed while the  artillery  of the army and popular  committees targeted the operation room  of the mercenaries in Al-mklkl and targeted their  gatherings in Mqubnp and secured Alkdhh market, the source said.
In al-Jawf province ,a number of mercenaries were killed and others wounded in a bombing  that targeted their gatherings in  al-Ghayl  directorate while a   Katyusha rockets  targeted a gathering of mercenaries in  alhizm  which led to flames at the position .