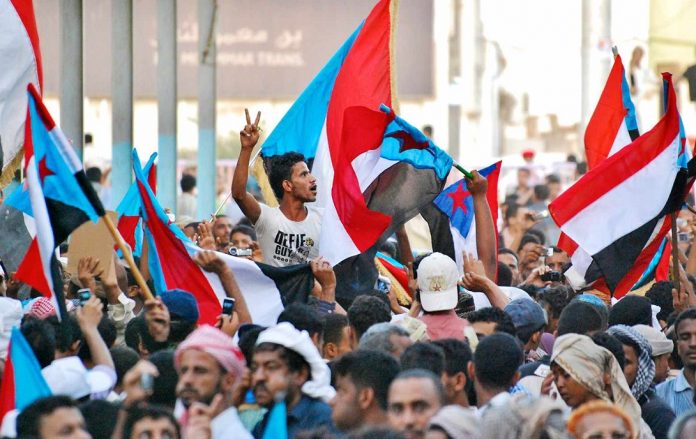 AL-Thawra Net
The Saudi-led Coalition's conspiracy to divide Yemen  took a step forward by the support of the ruling families in the UAE to the Southern Movement loyal to the forces of the UAE invasion. They pushed them to organize a demonstration in Aden succeeded overthrow Abed Rabbo Hadi and also canceling its decisions to isolate the former governor of Aden Aidroos Zubaidi.
With the direct Emirati support, southern movement announced the participating in the demonstration, "the historic statement of Aden," in a statement to establish an independent federal state in cooperation with the alliance of Saudi Arabia's brutal aggression and announced the mandate of the Aden Governor Aidroos Zubaidi "to declare a political leadership of the south under his presidency and the establishment of a democratic federal state under the pretext of countering Iranian influence.
Zubaidi pointed out that the demonstrators who gathered in Aden on Thursday demanded the formation of a political leadership to represent the people of the south in international forums and the United Nations and internally and externally and authorize those who carry their case before the world.
The United Arab Emirates commented on the the separatist ramifications in Aden through comments attributed to the Minister of Foreign Affairs the prince Anwar Gargash considered the decisions of the southern movement a reaction in reference to the Saudi decisions is anormal reaction.