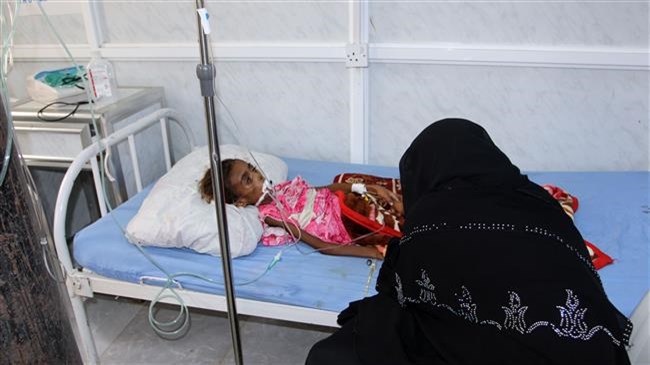 Al-Thawra Net
As the Yemeni capital, Sana'a is struggling with an unprecedented outbreak of cholera, al-Sabeen Maternity and Child Hospital is on the verge of breaking point, crammed with epidemic patients.
"The total number of cases has reached 1,350 cases in all provinces in Yemen, with two thirds of cases in the capital Sana'a. This is why you notice the overcrowding of the hospital with patients. Also, four new centers have been opened in the capital, "Abdel Rahim al-Kahlani, a spokesman for the Yemeni Ministry of Health said.
He added that the difficulties they are facing are shortage in staff and in medicine.
"Most of the medicines are registered outside the hospital; they cannot be found in hospitals," Selah Zaheeq, a nurse at al-Sabeen hospital said.
The relentless Saudi airstrikes against Yemen have also inferred a variety of health hazards on the people.
In early October last year, the World Health Organization announced the grim news of cholera outbreak in the war-torn country and three weeks later it reported that the number of cholera cases across Yemen, including the capital, had soared to hundreds.
Cholera is transmitted through contaminated drinking water and could prove fatal in up to 15 percent of untreated cases.
"I suffered from several complications while at home, there was nothing, and then all of a sudden I had continuous diarrhea and vomiting. I stayed at home for two days like that, and then they said it was cholera, so I was treated and Thank God I reached the hospital and they did everything they had to do ,"Rahma el-Zoheiry, a newly treated cholera patient at al-Sabeen said.
Nearly 3.3 million Yemeni people, including 2.1 million children, are currently suffering from acute malnutrition, with more than seven million Yemenis facing the layout of starvation. The figures, however, could unfortunately increase if the Saudi war machine continues to breathe fire on Yemeni people.
Latest tallies show that the imposed war has so far killed over 12,000 Yemenis and wounded thousands more. The Saudi aggression has also taken a heavy toll on the country's facilities and infrastructure, destroying many hospitals, schools, and factories.