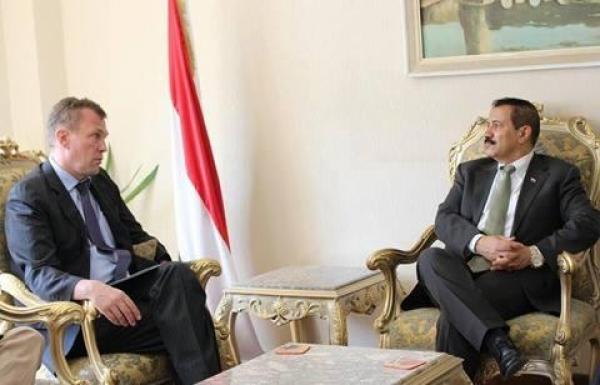 Al-Thawra Net
The Foreign Minister, Hisham Sharaf met the regional representative of the Red Cross Alexander Veet ,to discuss the humanitarian violations of  the Saudi aggression, and its loyalists, against the Yemeni prisoners and detainees .
The meeting dealt with the activities and programs of the Red Cross related to the prisoners and missing files on various fronts, as well as the interview that the Red Cross intends to arrange with all the captives of all Yemeni parties and those belonging to the alliance of aggression.
The states of aggression did not take into account any international Charters or conventions on prisoners during war, the foreign minister said.
He also confirmed that the Yemeni Government's intention to present a formal complaint to the United Nations, human rights and international organizations regarding the practices of the military leaders of the countries of aggression and their mercenaries against the prisoners as well as the detainees.
The minister Sharaf revealed that the countries of aggression are torturing the prisoners and force them to confess in order to serve the objectives adopted by those countries, including the allegations of terrorism, which are funded and encouraged by the same countries to target the security and stability of the Republic of Yemen and its people.