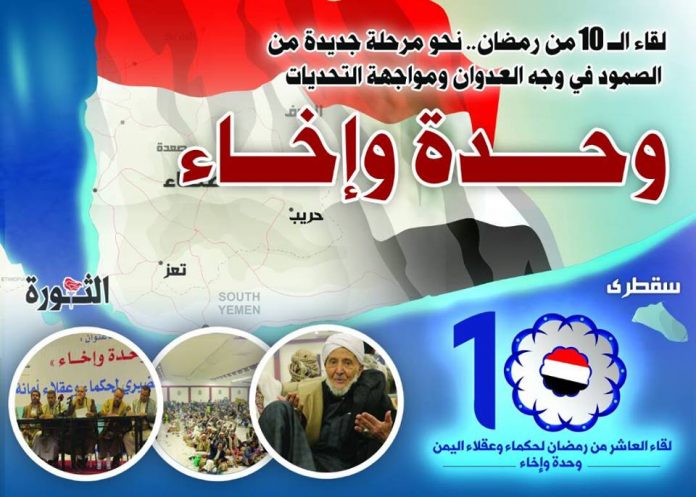 Al-Thawra Net
Yemen ًWise People Preparatory Meetings started in the Capital Sana'a and some governorates within the framework of the final arrangements of the great national meeting scheduled in 10th of Ramadan.
It came as a response to the call of the  Leader of the Revolution, Mr. Abdul-Malik Al-Houthi, to the wise people of Yemen to have a brotherly and united meeting that includes representatives of all other political and social forces in order to produce a national historical document of Yemeni principles to face the aggression.
The meeting, which will be held in the presence of representatives of all Yemeni governorates under the slogan "unity and brotherhood", aims at establishing the main bases for the principle of community partnership in self-determination and the independence of the national decision.
It also aims to study the steps and procedures that can help the Yemenis to strengthen steadfastness and stability and raise the level of performance and readiness in the face of aggression as well as strengthen ties of brotherhood and unity.
According to the meeting supervising committee, the meeting will be attended by a number of political and military figures, local officials in the provinces, religious scholars, representatives of political forces, civil society organizations, academic and social groups.
The meeting was aimed at unifying the position and strengthening the internal front and not directed against any national party.
The preparatory meetings will lead to many recommendations and visions that will be the main focus of the upcoming meeting, which is expected to conclude a historic document that includes important decisions and measures related to confronting the aggression and strengthening the steadfastness and cohesion of the internal front.