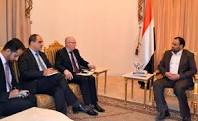 Al-Thawra Net
The head of the Supreme Political Council, Saleh al-Samad met today in the Republican Palace, the UN Resident Humanitarian Coordinator in Yemen, Jaime Macgoldrick in Sana'a.
During the meeting, the head of the Supreme Political Council praised the outstanding efforts of the United Nations and its cadre in Yemen in the humanitarian field, pointing to its humanitarian roles in standing with the Yemenis to combat the cholera epidemic as well as reducing pressure on the ministries of health, water and the environment.
"Blockade is a real impediment to the work of international organizations, and its destructive impact exacerbated the humanitarian situation, creating a new kind of humanitarian crises at the international level which is the closure of Airports and seaports as well as hindering the movement of citizens, patients and students," al-Samad said, " the United Nations have  to find solution and stepping up efforts to alleviate the suffering caused by the Saudi-American blockade that target  the economy and currency to hinder the work of the institutions of the country,"
In his part, the United Nations Resident Coordinator in Yemen briefed a summary of the humanitarian program of the United Nations to face the outbreak of cholera epidemic pointing out to the surprise of the United Nations Office in Yemen of the rapid spread of the epidemic in 21 provinces.
McGoldrick pointed out to the difficulties facing the United Nations in mobilizing resources for the humanitarian response in Yemen and the inability to show the human suffering through the international media.
He also stressed that the United Nations always raises the issues related to humanitarian aid, the humanitarian needs of airports and salaries on its list of priorities and working to achieve a breakthrough regarding Sana'a International airport and to convey the voice and suffering of Yemenis to the world, which is seen through the global media and social media interactions.
,