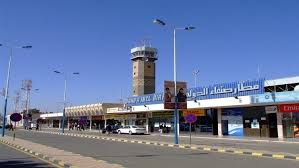 Al-Thawra Net
The Civil Aviation and Metrology Authority called on Tuesday on the international community and the United Nations to investigate the impact of the destruction of Yemeni airports and a blockade by the Saudi-led coalition on the Yemeni people.
"The destruction of the Yemeni airports and blockade caused a humanitarian catastrophe and affected the lives of millions of Yemeni people," the Spokesperson for the Authority, Mazen Ghanim said.
"The closure of Sana'a International Airport, which is the major lifeline in the country that serves more than 8 million people, has caused the death of more than 10.000 patients who were in urgent need to travel for medical treatment abroad," he added
Dr. Mazen Ghanem indicated that the closing of the airport prevented 45.000 Yemeni people from returning from abroad, as well as hundreds of Yemenis stranded in international airports, especially after the suspension of flights from and to Seiyun and Aden Airports were suspended or restricted in addition to preventing airlines from organizing flights to and from Aden airport to transport the stranded.
He also pointed out that the continued closure of Sana'a International Airport since August 2016, the destroying of Yemeni airports, hindering the reopening of Seiyun Airport and restricting flights from and to Aden Airport is a violation of the civil aviation law and human rights.
Ghanim called on the international community to hold the responsibilities and put an end to the violations against the Yemeni people committed by the Saudi-led coalition and to keep the civil aviation away from the conflict in order to save what can be saved of it