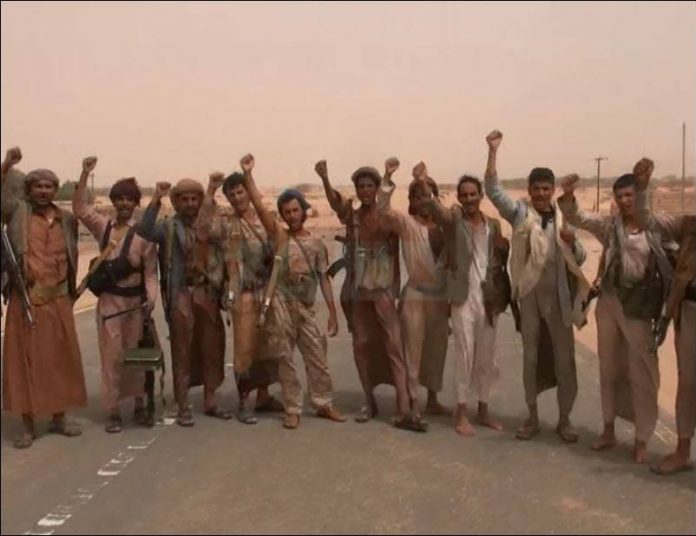 Al-Thawra Net
The army and the Popular Committees carried out offensive operations against the positions of the aggression mercenaries  causing heavy losses  while the rocketry and artillery force bombed the  reinforced  fortifications and positions of the Saudi enemy during the past hours.
A military source told Saba news agency that the army and popular committees carried out an attack on mercenary  positions in Al-Jawf governorate which resulted  in losses  of life and equipment.  The Engineering unit destroyed a mechanism Carrying a machine gun rate  23 and the killed  its crew in al-Khalifayn  area  .
In Marib  province, three mercenaries were killed, one of them was the mercenary leader Haitham al-Harasi, nicknamed Abu Ubaidah, the commander of the vehicle company in the Sarawah directorate . Three military vehicles loaded with weapons were destroyed and those on board  of them were killed .
The source pointed out that the artillery and rocketry force of  the army and popular committees targeted mercenaries in the area of Karash in the province of Lahj and north of the desert of Midi and in the province of Dhale , causing direct injuries.
In Jizan, the rocketry  force of the army and popular  committees fired Zilzal 2 missile at the camp of Almazab and targeted the positions of the Saudi army at al-Tawal port and a Saudi soldier sniedr  in al-Khouba .
The source pointed out that artillery bombardment of the army and popular  committees targeted marines and fortifications of the Saudi military in Tala, the sand hill off the port of al-Khadra, al-Ahmar hill and siqam control  in Najran .
.