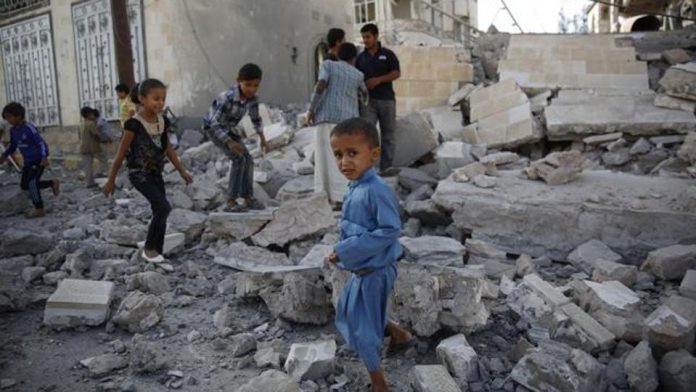 Saudi American warplanes committed massacres and crimes against the Yemeni people and their capabilities in a number of provinces during the past few hours .
A military source told SABA  that 18 citizens, including women and children, were killed and several wounded in the past hours .
The Source pointed out  that 12 citizens, including six women and two children were killed in a raid by the aggression warplanes on Harib al-Qaramish directorate in Marib province, while 5 people were killed in a raid targeted their car in Al-Barh district  Taiz province .
The source said that the  aggression launched three raids on different areas on Khalid Camp another raid on  al-Hamli area ,and two raids on Al-Barh district .
The source  pointed to the death of one person and the injury of three African migrants after being targeted by the mercenaries of the aggression in al-Mtoun  directorate in al- Jawf province,  a raid on Hebei directorate in the same province, and launched a raid on  Nehim directorate .
In Sa'ada  province  Saudi warplanes launched a raid on Al-Zaher  directorate while different areas of Razih directorate were hit by Saudi  rockets and machineguns .
The source pointed out that the Saudi warplanes launched  26 raids on different areas of  Al- Raboa'a city in  Assir, and six raids on Al-Shorfa position  coincided with the flights of Apache planes .