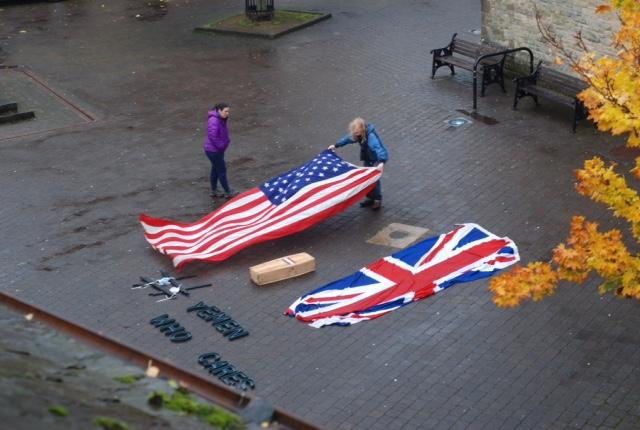 Al-Thawra Net
AUCHINLECK artist Brian Carey has been surprised by the reaction, or lack of it, to his latest work.
Carey has been displaying his Message for United Nations…! Tribute to Yemen in both Glasgow and Cumnock but he has been left confused by the lack of support for the plight of the Yemeni people.
The Gulf state is in the middle of a devastating civil war which has seen over 10,000 civilians killed and over 3.1 million people displaced and Carey feels the Saudi-led coalition, supported by the UK and the USA, is complicit in the suffering of the Yemeni people.
Carey has previously produced artwork in relation to the Syrian Civil War and was overwhelmed by the public support to it, but he has been baffled by the lack of empathy for the situation in Yemen.
He said: "I did [my latest work] to highlight the ongoing suffering of civilians in Yemen. Of all the work I've done, Yemen seems to be the least popular with people on the street, both in Glasgow and Cumnock where I chose to display it.
"I'm puzzled as to how so many of the Scottish people showed interest and concern over the plight of the Syrian people and, in contrast to Yemen's conflict, the opposite is true.
"With the UK and the United States both involved in one way or another – our arms trade to Saudi Arabia and the US's refuelling of Saudi jet fighters which are helping to the misery of this conflict.
"With starvation and cholera being used as weapons of war and children being stillborn due to malnutrition and lack of medical supplies, I think we should be concerned as we are not innocent by any means – even if it isn't our jets doing the bombing.
"I have had a number of Yemeni's that have saw my tributes for Yemen on social media and have messaged me saying how much they liked what I was doing, one was a diplomat who has sat in on the UN Geneva conference and another, an artist, Murad Subay who is famous for his art on the conflict.
"My Yemeni friends liked [my work] and the people of Glasgow tried their best to disregard it. The Yemeni's said, unfortunately, it spoke the truth.
"I did the work a couple of weeks ago. There is a child's coffin with a Yemeni flag on top, a wooden bowl with a few crumbs, a bottle of drinking water, recycled disposable plastic knives, forks and spoons and the word Yemen made from crumpled energy cereal bars."