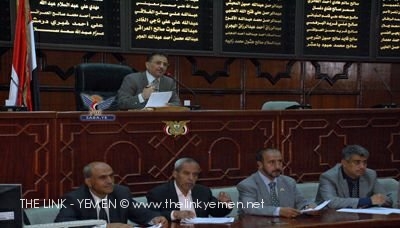 Al-Thawra Net
The House of Representatives continued to hold its meetings for the second term of the second session of the 12th Annual meeting today, under the chairmanship of the Vice-President of the Council,  AbdulSalam Saleh Zabia'a .
At this session, the members confirmed the invalidity of any agreements or treaties by an absolute rejection by any party or entity that seeks to discredit the national sovereignty, islands or territorial waters of the Republic of Yemen
The deliberations indicated that the Yemeni people do not agree to any suspicious agreements by any party that affect the sovereignty of the Republic of Yemen and that the Yemeni people are not bound by such agreements.
They warned of any suspicious attempts and the Yemeni people will not stand idly in front of suspicious agreements or treaties that affect the national sovereignty on land, sea and air.
Moreover, they pointed out that any party that thinks of neglecting any inch of the national sovereignty of Yemen and its great history will hold accountable.
They also warned the countries of the aggression alliance, led by Saudi Arabia and its mercenaries, to not thinking to harm the national sovereignty of the Yemen and its capabilities, stressing that the Yemeni people with all its sects and components will resist and will defend the national sovereignty against any aggressors.