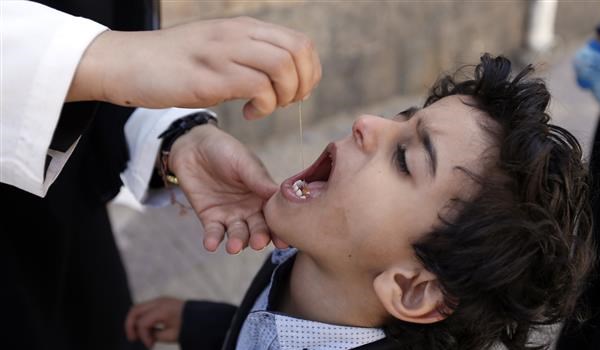 Al-Thawra Net
The United Nations children's agency warned that Yemen's stocks of fuel and vaccines will run out within a month unless the invading military coalition, led by Saudi Arabia, lifts its blockade on the Western port of Hodeida and the international airport in the capital Sana'a.
"Stocks of fuel would last until the end of November and stocks of vaccines would run out in just one month," UNICEF Resident Representative in Yemen Meritxell Relano said to reporters in Geneva,
She further warned that fuel prices had gone up 60 percent and there were deep concerns about a diphtheria outbreak and food shortages because of the closure of the port of Hodeida which was used to import nearly 80 percent of Yemen's food before the shutdown.
"The situation that was already catastrophic is just getting worse. The impact of this is unimaginable in terms of health and diseases," Relano further added.
On Monday, Saudi Arabia announced the closure of all land, air and sea ports in Yemen. Riyadh's move came after Yemeni forces, backed by Ansarullah fighters, launched a Borkan H2 long-range missile at King Khalid International Airport in Northeastern Riyadh late on Saturday.
According to several reports, the Saudi-led air campaign against Yemen has driven the impoverished country towards humanitarian disaster, as Saudi Arabia's deadly campaign prevented the patients from travelling abroad for treatment and blocked the entry of medicine into the war-torn country.
The cholera outbreak in Yemen which began in April, has also claimed over 2,200 lives and has infected 900,000, as the nation has been suffering from what the World Health Organization (WHO) describes as the "largest epidemic in the world" amid a non-stop bombing campaign led by Saudi Arabia. Also Riyadh's deadly campaign prevented the patients from traveling abroad for treatment and blocked the entry of medicine into the war-torn country.
According to reports, the cholera epidemic in Yemen, which is the subject of a Saudi Arabian war and total embargo, is the largest recorded in modern history.
However, according to the World Health Organization (WHO), the number of new cholera cases has fallen consistently during the past eight weeks. Nevertheless, it warned that progress against the viral disease could be reversed by the blockade.
"If the closure is not stopped in the coming days, we may see that the progress is stopped," WHO spokeswoman Fadela Chaib said a regular UN briefing in Geneva, adding that "We can see even more cases and more deaths as a result of not being able to get access to people."
On Wednesday, a ship setting sail from Djibouti, with 250 tons of WHO medical supplies, was barred from anchoring in Hodeida due to the persisting blockade.
"If the blockade continues and the ports remain closed, we will not be able to perform life-saving surgeries or provide basic healthcare," Chaib stressed.
"Humanitarian movements into Yemen remain blocked," said UNOCHA spokesman Russell Geekie.