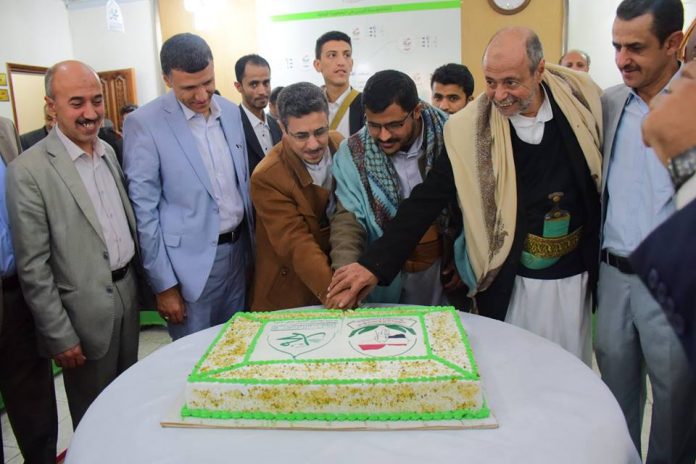 Al-Thawra Net
Wounded Foundation organized an event today in Sana'a to celebrate the Prophet Muhammad's Birthday Peace Be upon Him.
In the event attended by the President of the Supreme Revolutionary Committee Muhammad Ali al-Houthi and members of the Board of Wounded Foundation, Hamza al-Wushli stressed on the importance of celebrating this occasion, in which God bestowed upon his Ummah the prophet of Huda.
Al-Washli said that the commemoration of this anniversary reflects the depth of the nation's attachment to the Great Prophet and to follow his true approach, and to demonstrate his ethics and lofty values ​​that urge love, compassion and tolerance.
In his part, the Foundation's projects manager Dr. Ibrahim Shiban, reviewed the programs and projects implemented by the foundation for the care of the wounded, providing services to 63,000 wounded by the end of the third quarter of this year.
Shiban noted that some 25,000 and 641 surgeries had been carried out in the provinces where the foundation operates, while the average number of beneficiaries of the medicine programme was 10,000 beneficiaries per month, with a value of 297, 351, 227 million riyals.
Dr. Shiban explained that the number of beneficiaries of the nutrition programme was 4,000 and 500 beneficiaries per day, indicating that the number of meals distributed to last September, three million and 645 thousand meals worth 4.9 Billion riyals.
The meeting was attended by Deputy Minister of Technical Education Dr. Khalid Al-Hawali, Deputy Minister of Higher Education Dr. Abdullah Al-Shami, Deputy Minister of Health Dr. Abdul Salam Al-Madani, Undersecretary of the Ministry of Social Affairs Dr. Yahya Al-Hadi, and a number of officials in hospitals and health agencies.