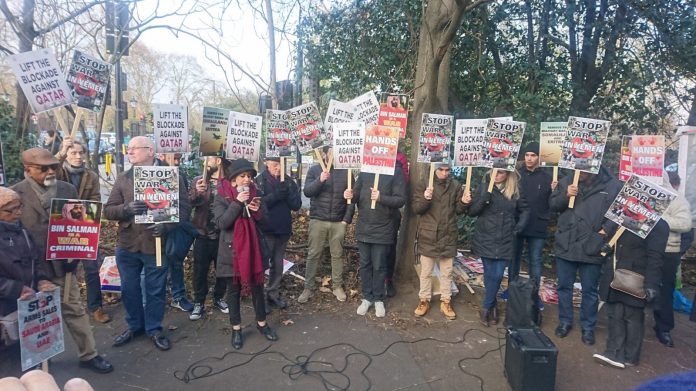 Al-Thawra Net
A number of activists protested in front of the Foreign Ministry in London to condemn the Saudi aggression against Yemen.
The United Nations International Campaign for the boycott of the UAE stand in front of the UAE embassy in London to expose the criminal practices in Yemen after more than a thousand days of aggression and and blockade and the resulting consequences as Yemen became the worst place for children and threatened the world's largest famine.
Meanwhile, the head of Stop the War coalition Lindsey Germain called on British citizens and human rights activists to participate actively in the movement and activities to expose the inhuman practices practiced by the UAE forces in Yemeni cities and islands and continue to besiege Yemen and starve its people.
Britain and many other countries are involved in this war through their silence and continued sale of weapons that are used excessively for crimes against civilians.
Participants from activists and jurists stressed the importance of pressuring the Abu Dhabi regime to violate human rights by its war on Yemen, recruiting mercenaries and killing innocent people.
The international campaign initiated legal proceedings against Mohammed bin Zayed and other Emirati officials, and also organized several information events exposes the role of the UAE in Yemen, particularly the recruitment of foreign mercenaries from Latin America who commit war crimes and torture of prisoners in secret prisons outside The law framework.
In a statement, the campaign noted that this pause represents an important move to expose criminal practices and an opportunity to save millions from the spectre of famine, which threatens the security and safety of Yemenis.
The participants held the Yemeni flags and images of the suffering of the children of Yemen from fatal diseases.
Statistics on the number of deaths in the war that have been going on for more than a thousand days have been made effective, with United statistics showing that a Yemeni child dies every 10 minutes.
The participants noted that this war and famine were a disgrace to humanity and that participating States were participating in the largest crime against a people in contemporary history.
The participants stressed that by selling weapons to the countries of aggression, Britain and America are involved in killing children and committing crimes against civilians.