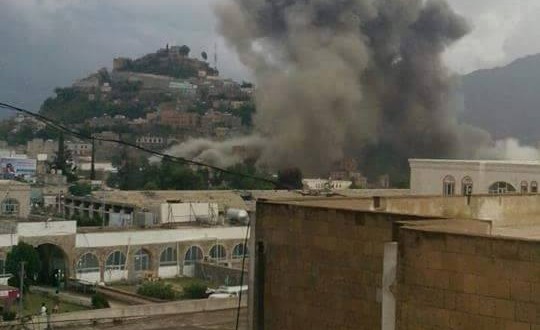 Al-Thawra Net
The Saudi-American aggression warplanes waged 22 airstrikes on four Yemeni provinces over the past 24 hours , killing and injuring of 9 citizens , while different areas of Sa'ada province  were hit by a rocket and a Saudi artillery .
A military source told SABA that four civilians were killed in two airstrikes on truck in Mokha district, and the warplanes launched two air raids on Najeeba market in Moazea district in Taiz province.
The source indicated that the aggression warplanes launched three strikes In Nihem districtl Sana'a province.
The same source pointed that three civilians were injured in an airstrike on a farm in Al-Zamah area and two airstrikes on Al-Qarad area of Baqm district.
Moreover, the aggression fighter jets carried out a raid on al-Shaikh area of Munabeh border district; eight on Boqea area of Kitaf district, an air strike hit Shabaan area of Razeh border district. And apache Helicopters fired Shajea area of Kitaf district.
Meanwhile, Saudi-led aggression coalition waged artillery and missile attack on several areas of Razeh border district, on Al-Shaikh and Dawshah areas of Munabeh border district, and also Ghor area of Ghamer border district, causing heavy damage to civilians' properties and farms.
Two civilians were injured in two airstrikes targeted a civilian's truck in Rajuzah area in al-Jawf province, the source added.