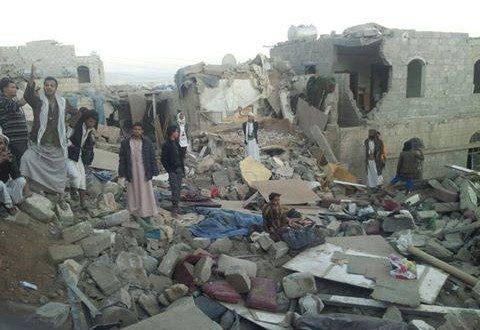 Al-Thawra Net
The Saudi-American aggression warplanes continued its airstrikes on several Yemeni provinces over the past 24hours, killing and injuring dozens of citizens.
A military source told Saba that eight citizens, including four women, were killed in 15 Saudi-American airstrikes on the city of Sa'ada, five of them targeted the central agricultural markets.
Moreover, the source said that the Saudi-American aggression warplanes waged an air strike on Manabah district, another air raid on Nshor area,  two others on Safra'a district and one air strike on Sehar district.
The same source indicated that several border districts were hit by Saudi enemy rockets and artillery shells, causing material damages to the citizens' farms and hours.
In Amran province, the Saudi aggression air forces conducted three airstrikes on Harf Safyan, and four air raids waged on Sirwah district of Marrib province.
In the Red Sea Port City of Hodeidah, the Saudi-American aggression fighter jets launched  four airstrikes on Jarahy district, riad on Bura'a district, and another on on Sukhna'a area.
The source added that the Saudi-American aggression mercenaries bombed civilians 'houses in al-Othmanyah area of lahj province with a number of mortar shells.