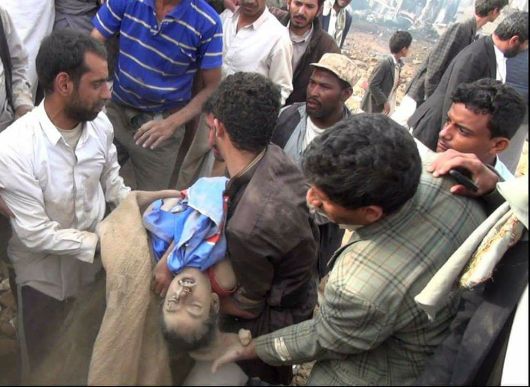 Saudi aggression continued its horrific crimes against the Yemeni people. It launched 49 raids in five governorates over the past 24 hours, killing 12 citizens and injuring 30 others in the governorates of Hajjah and Sa'ada .
A military source told SABA  that nine citizens were killed and 28 others were injured following an air raid on al-Warqi station in Abs district in Hajjah province .
The aircraft launched seven raids on  farms on  Abs directorate and four raids on the area of ​​Bani Haddad in the directorate of Harad, and targeted areas in the departments of Harad and Midi with  14 raids .
The source confirmed the death of three citizens and wounding two others as a result of a raid  by the aggression targeted a water rig in the district of Maujjz of the province of Sa'ada , and launched 11  raid on the directorate of Baqem .
He also launched a raid on Kahlan and another raid on the Gammar district of Razih border, while Saudi gun and missile bombing targeted  different areas of the directorate of Manaba border  directorate .
The source pointed out that the enemy aircraft launched five raids on the directorate of Arhab in Sana'a, and three raids on the of Karash in the province of Lahj, and a raid near the crossroad  of  Mokha in the  province of Taiz .