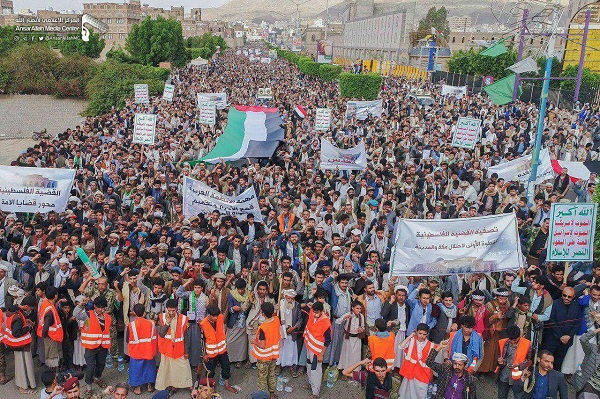 Thousands of Yemeni people have taken to the streets of the capital Sana'a to strongly condemn the Israeli massacre and the transfer of the American embassy from Tel Aviv to Jerusalem "al-Quds"
Demonstrators convened at the Bab al-Yaman Square in the capital on Tuesday afternoon, chanting slogans against the occupying regime. They shouted "Death to Israel, Death to the US, and Long live the Palestine."
They also said that the Palestinian cause, which must never be allowed to be obliterated, is present in the conscience of the Yemeni people despite the brutal aggression that Yemen has been subjected by a US-baked Saudi-led military coalition since 2015.
The massive demonstration came a day after the Israeli military killed at Least 60 Palestinian protesters, including eight children, and wounded some 2,500 others along the border of besieged Gaza Strip with the Israeli-occupied territories.
On Monday, the US relocated its embassy from Tel Aviv to Jerusalem al-Quds, triggering mass protest of Palestinians along the Gaza border. The relocation Of US embassy, which has so far drawn international condemnations, was carried out five months after Trump recognized the holy city as the "capital" of Israel, promising to move the US diplomatic mission.