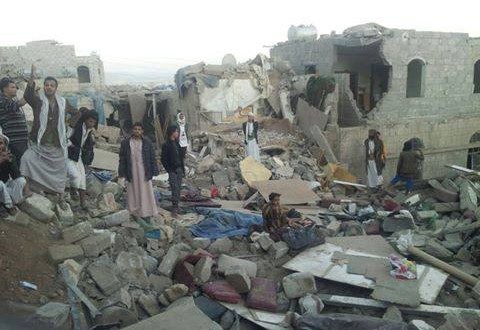 Six civilians, mostly children, were killed and three others were injured by air strikes and a cluster bomb explosion left over from aggression in the last 24 hours .
A military source told SABA  that a woman and her four children were killed by an air raid on their house in the town of Dahyan in Mujjz dstirict Sa'ada  province .
The source confirmed the death of a child and the injury of a man and his wife by a cluster bomb from the remnants of aggression in the directorate of Razih border .
The source pointed out that the air aggression launched a raid on  Bani Muaz district of Suhar and three raids on the camp of the Republic in the outskirts of the city of Sa'ada, and launched two raids on the areas of Azhour and Bani Muein  in the directorate Razih and a raid on  Mujjz district .
Different areas of the districts of Al-Zaher, Haidan, Razih and Shada border were hit by a rocket and a Saudi gun .
The source said that a citizen was wounded and a number of houses were damaged after a raid on the heavy transport headquarters in the area of ​​the Assr, and launched a hostile air raid on Sana'a International Airport .
In the province of Hodeidah, the warplanes launched a raid on the farm of a citizen in  Mount  Ras district   province .
According to the source, four raids were carried out on the areas of Al-Mazraq and Faj Harad in Hajjah province .