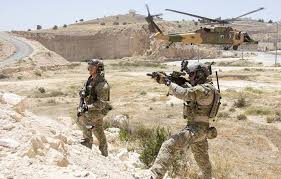 Al-Thawra Net
The New York Times revealed that the United States has sent US troops to take part in the war against Yemen.
A dozen of US Special Forces "Green Berets"  were deployed to on Saudi Arabia's border with Yemen, in a continuing escalation of America's secret wars, the New York Times reported.
US Special Forces units have been deployed to Saudi Arabia border with Yemen since the end of the year (2017) along with the United States, said that US troops arrived in Saudi Arabia last December.
The US troop deployment shows a greater involvement of the United States in the war against Yemen, which about 39 civilians were killed and wounded, causing the worst humanitarian crisis in the world, according to the United Nations.