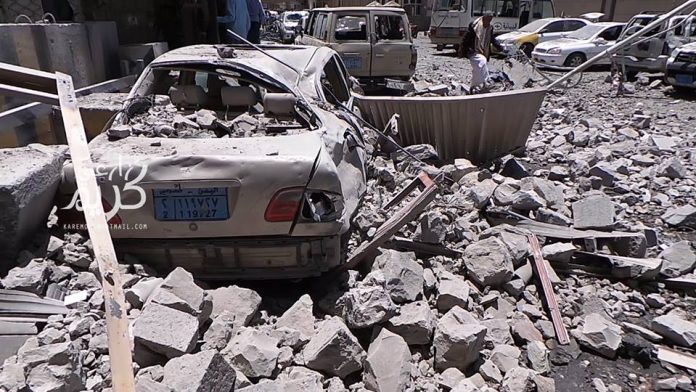 The Yemeni NGOs Coalition for Child Rights Care (YNGOC) condemned the brutal aggression of the coalition countries led by Saudi Arabia, in which on Monday morning, May 7, 2018, the Saudi-led Coalition's air jets launched two air raids on the Presidential Office in the capital, Sana'a which is a civilian building with more than one hundred and sixty civil servants.
The statement mentioned that the Presidential Office is located in a residential and commercial area with two schools of more than hundreds of students taking final exams in examination halls.
The YNGOC strongly condemned the heinous crime, the deliberate air raids, and war crimes, as they directly target civilian neighborhoods and government institutions where innocent civilians are living and working. In which in these raids dozens of innocent people and children were martyred and wounded ,whether  who were walking next to the building of the presidency or residents of nearby neighborhoods.
" The Human Rights Council, the Committee on the Rights of the Child and international organizations inside and outside Yemen have to stand by the Yemeni people and stop the heinous crimes and massacres against innocent civilians, children and women," the YNGOC appealed.
The YNGOC called on them to stand up and carry out their duties and moral responsibility. We, also, call for the formation of an international commission of inquiry to investigate the crimes committed by the coalition countries against the Yemeni people in all governorates.
"On behalf of the CSOs and children of Yemen, we call upon the UN envoy to Yemen and the international community to urge the UN Security Council to take urgent decisions to stop this unjust war against the Yemeni people and to lift the blockade on all air, land, and sea ports," the statement added.