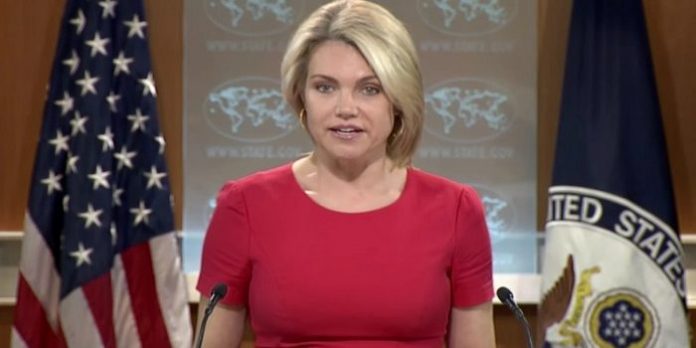 Al-Thawra Net
The U.S. State Department spokesperson Heather Nauert refused to condemn Thursday's coalition airstrike on a school bus in Yemen, which left as many as 50 people dead and 63 injured — the vast majority of which were children
As we reported previously, Saudi-US/UK coalition jets scored a direct hit on the school bus packed with children as it drove through a crowded market place in Dahyan district.
During the State Department's daily press briefing, Nauert was asked point blank by journalists, starting with the AP's Matt Lee, whether the US condemns the attack.
The whole testy exchange on Yemen is worth watching, especially as Matt Lee lays out the case for direct US complicity in the attack on the bus packed with children from the start of his question: "The Saudis obviously are the ones who conducted this, but they do that with weapons supplied by the U.S., with training supplied by the U.S., and with targeting information, targeting data, supplied by the U.S. How can something like this happen?" he said
Unbelievably, Nauert tried to obfuscate the issue by simply saying "I can't confirm all the details because we are not there on the ground.
Not only did Nauert refuse to say the State Department condemned the attack, but wouldn't so much as agree to simply call for an independent investigation into the incident (she called only for a Saudi-led inquiry)
Nauert drew random incredulous expressions of laughter from the press pool by the end of the segment on Yemen when she was caught struggling to acknowledge the long-established fact that the US supplies "a tremendous amount of weaponry and the data for targeting to the Saudis" while simultaneously touting that Washington provides "a tremendous amount of humanitarian assistance."
Source: Website