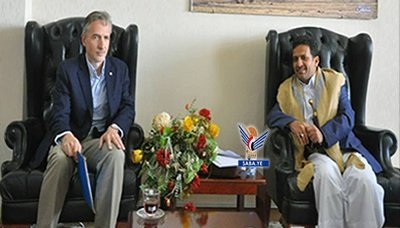 Al-Thawra Net
Deputy of Foreign Minister Hussein al-Ezzy met on Sunday met with Manager of United Nations Department of Safety and Security, discussing the cooperation and coordination between Yemen and the office.
During the meeting M. al-Ezzy affirmed the attention of the National Salvation Government the providing of all the aspects of the cooperation and the support between Yemen and UN organization working in Yemen, adding that the security and protection of the staff and buildings of the UN in Yemen is a priority, especially in Hodeida province that confronts the escalation of the US-backed Saudi-led mercenaries.
Al-Ezzy affirmed the importance of the role played by the UN to ensure the arriving of the shipments from Hodeida port to the various provinces certainly the essential elementary articles and the oil derivatives.