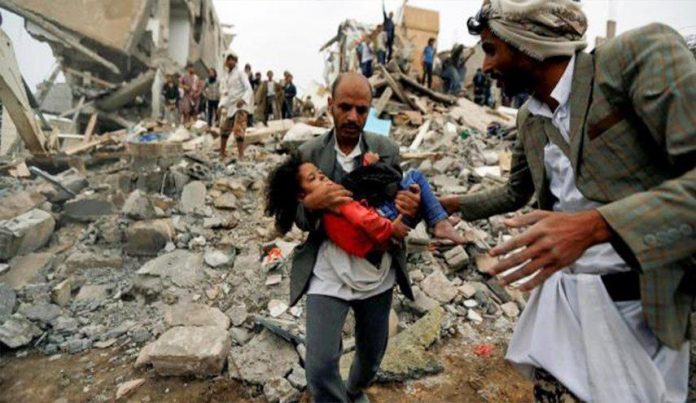 18 citizens were killed  and 21 others, including women and children were injured by air strikes and  artillery shelling in a number of governorates during the last 24 hours .
A security source told SABA  that eight citizens were killed and two were wounded in Haradh district. Six civilians were killed and three others were injured after their house was targeted in two areas in the Ram district  Hajjah governorate .
In the province of Dhale, two citizens were killed and a third was seriously injured by artillery shelling on the village of Rabat, southeast of the city of Dumat .
The source confirmed the injury of a mother and her child seriously and the destruction of their house after the targeting of their home in al-Tahita area, and one of the workers of Yamani factory was killed and two were injured as a result of the bombing of the factory in the province of Hodeidah .
The source  pointed to the death of a citizen and wounding ten others as a result of intensive artillery shelling on different areas on al-Halai directorate, and artillery shelling targeted houses in the area of ​​7 July and the central prison in the city of Hodeidah .
The source said that the  aggression launched three raids on the Triangle Aladdin directorate of Hiss and more than 30 raids on Kilo 16 and the 50th Street and various areas of al-Halai directorate .
The source pointed out that the residential neighborhoods in the city of Hodeidah was subjected to heavy shelling with artillery and heavy and medium machine guns .
The source said that a child was injured by a cluster bomb in the directorate of Kataf in the province of Sa'ada, and hostile aircraft launched three raids on of Razih .
Saudi enemy  bombed with dozens of rockets  various residential areas in the directorate of Al-Zaher, and rocket and artillery bombardment targeted  homes and farms in the directorate of Baqm.