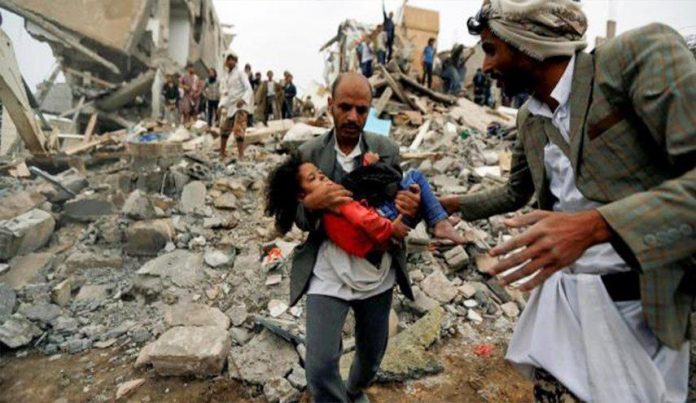 Al-Thawra Net
A woman was killed and ten civilians, including children, were seriously injured when the US-backed Saudi-led coalition launched more than 95 airstrikes and ground attacks on several Yemeni provinces over the past 24 hours, according to reports combined by Saba News Agency on Saturday.
In Saada, a woman was killed in Saudi's missile attacks at Talan area of Haidan district, another child was injured in missile and artillery attacks on Razih district
the Saudi led aggression missile and artillery shells were fired at residential areas of Monabeh district, causing material damages to citizens' properties
Meanwhile, the coalition warplanes launched two raids on Qad area and two air strikes on Azhur area of Razih district.
The Saudi-led coalition warplanes launched a series of airstrikes on several areas of Dhaher district.
In Hodeidah, nine civilians were injured, including children, in more than 30 airstrikes on Kilo 16 area of Hali district.
The coalition warplanes launched four air strikes on Mikhlafi refrigerator in the same area, the Saudi areal and artillery bombardments caused massive damages to the civilians' homes and properties in Kilo 16 area and nearby areas.
In Sanaa, the aggression warplanes launched 10 airstrikes on Hamdan district, four air strikes on Jarban camp in Sanhan district, and over 30 airstrikes hit Dailami air base.
In Hajjah, two airstrikes were launched on Makhafi area of Mostaba district, two other airstrikes hit Shab-Amadush area of Abbs district, and eight air raids were waged on Haradh and Medi districts.