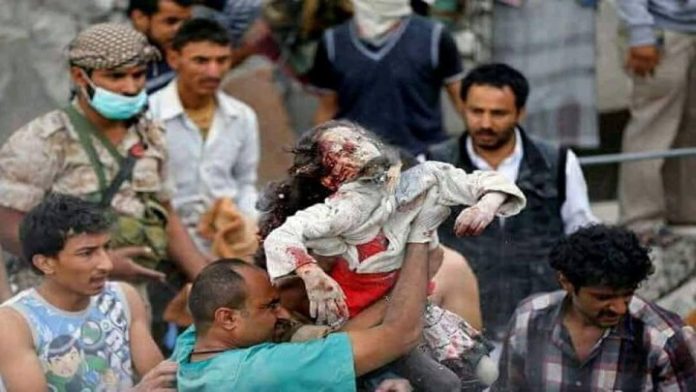 Six civilians were killed and 12 others were wounded, including women and children, following artillery bombardment and air raids by the US-Saudi aggression on Hodeidah province. The raids and shelling also targeted the governorates of Sa'ada, Hajjah and Al Bayda during the past 24 hours .
A security source told SABA that three citizens were killed and seven others were wounded, including women and children, after the shelling of houses near the Dar al-Salam hospital in Al-Hawk district in the province of Hodeidah .
The source confirmed the death of two citizens and wounding four others, including two women and a child in the targeting of drones of four houses in the district 24 of the directorate of the port, and a child was killed by the fire of invaders and mercenaries in the area of ​​Suwaiq directorate of al-Tahita .
The source pointed out that the invaders and mercenaries targeted the Nana factory of Ice cream in the area of ​​Kilo 16, which led to the injury of one of the workers seriously injured and a huge fire in the place .
The invaders and mercenaries fired more than 25 artillery shells at the farms and property of the citizens south of the directorate of al-Tahita. Nine attacks were carried out on the mountainous area of ​​the directorate and a raid on the 7 July residential area in Hodeidah .
The source said that a rocket bombardment and an intensive Saudi artillery led to damage to the property of citizens in the districts of Baqm, al-Zaher and Razih and killed a number of livestock in the directorate of Manbah in Sa'ada province .
The hostile aircraft launched two raids on Mujjaz district .
The source said that the  aggression launched six raids on the departments of Harad and Midi in the province of Hajjah, and two raids on Qanya in the province of al-Bayda .