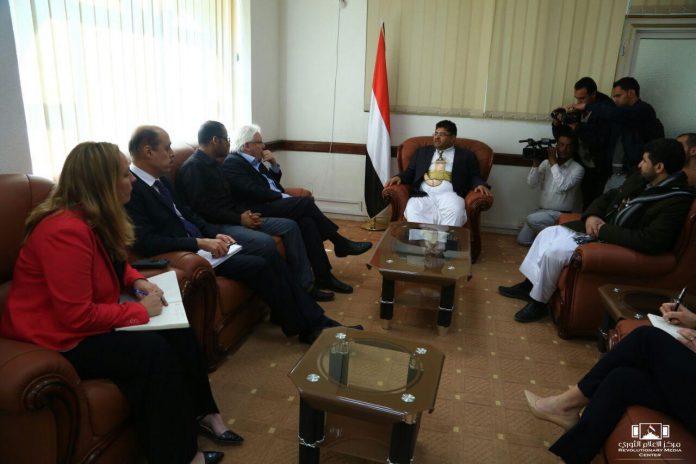 Al-Thawra Net
Chairman of the Supreme Revolutionary Committee, Mohammed Ali al-Houthi on Sunday met with the UN envoy Martin Griffiths in the capital, Sanaa.
Mohammed Ali al-Houthi confirmed that they are adhered to the Stockholm Agreement on the city of Hodeidah.
"We are committed to the Stockholm agreement and we are ready to implement all terms of the agreement without retreat," al-Masirah TV quoted the Chairman of the Supreme Revolutionary Committee as saying at a meeting with UN Envoy.
Last December, the parties to the conflict in Yemen reached an agreement in Sweden that included a cease-fire in the western province of Hodeidah and the facilitation of the introduction of aid to millions of Yemenis.
In an effort to save the Stockholm accord, Griffiths had arrived in Sanaa on Saturday evening to discuss ways to implement the agreement.
A diplomatic source said UN envoy will meet the leadership of the Ansarullah and General Patrick Cammaert, chairman of the UN Committee for the redeployment of troops from the city of Hodeidah and its three ports including, Hodeidah port, Salif port and Ras Issa.