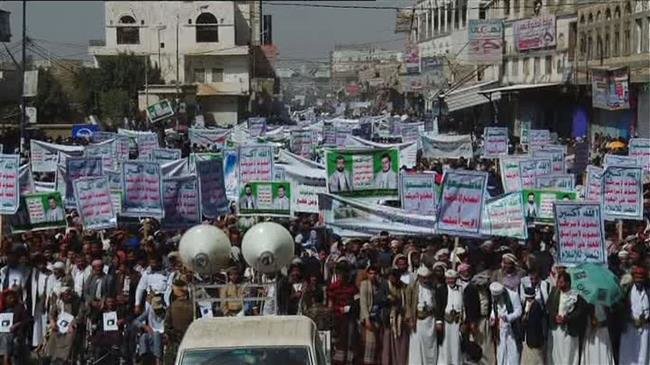 Al- Thawra Net
Millions of Yemeni people have taken to the streets across Yemen to disown the Saudi-led coalition-backed traitors and reject normalization with the Zionist entity.
The rallies took place in the capital, Sana'a, as well as in other several provinces of Saada,  Hodeidah, Taiz, and al-Jawf, among other places in the country, on Sunday.
The participants condemned the non-national and immoral positions made by the so-called foreign ministry in Saudi-backed exiled Hadi's authorities Khalid al-Yamani backing to erase the Palestinian cause and normalization with the Zionist entity.
They called the warming up of the Israeli and Arab regimes an act of treason against the Palestinian cause and vowed to stand by the Palestinian nation in its fight against the Israeli occupation.
The Yemeni demonstrators chanted slogans against Israel and slammed Arab leaders as "traitors."
The demonstrators specifically criticized a recent United States-led conference held in the Polish capital of Warsaw, during which Arab leaders met with Israeli Prime Minister Benjamin Netanyahu.
The move came in a response to calls made by the leader of the revolution Sayyid Abdulmalik al-Houthi on Friday.
Sayyid Abdulmalik al-Houthi had called the Warsaw conference "just a manifest of many steps taken against our Islamic Nation," referring to the international Muslim community.
"The [Arab] traitors and their masters wanted our dear people to be puppets for Israel and the United States," he said.
Many Arab observers also called the event — where Netanyahu and some Arab foreign ministers adopted a similar tone regarding the regional situation — a pre-planned stage for the normalization of Israeli-Arab ties.