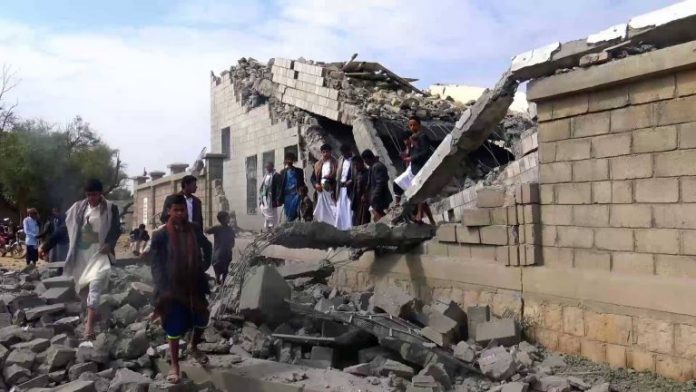 Eight civilians were killed and one wounded in by Saudi raids and the fire of its mercenaries in the provinces of Al-Baida and Hodeidah during the past 24 hours.
A security source told SABA that three women and one man were killed and another wounded by the aggression mercenaries in the neighborhood of Rabsa in the directorate of Hawk province Hodeidah.
The source pointed out that the forces of aggression targeted with more than 30 artillery shells and machine guns the Faculty of Medicine , university and airport  of Hodeidah.
The source said that an attempt to infiltrate by the mercenaries east of Hyss was stopped by the heroes of the army and  popular committees.
The invaders and its mercenaries fired 24 artillery shells on the Al-Faza area of ​​Al-Tahita with eight mortar shells on the besieged city of al-Durahemi.
The source pointed to the death of four citizens as a result of the aggression raids on a water tanker in the area of ​​Al Wahabiya directorate of Sawadiyah.
In the province of Sa'ada, the warplanes bombed the property of the citizens , and Saudi missile bombardment targeted  populated villages in the border district of Shada, and the shelling of rockets and artillery  targeted populated villages in the directorate of Manbah.
The source said that the aggression warplanes launched two raids on  Al-Mazraq district of Harad in the province of Hajjah.