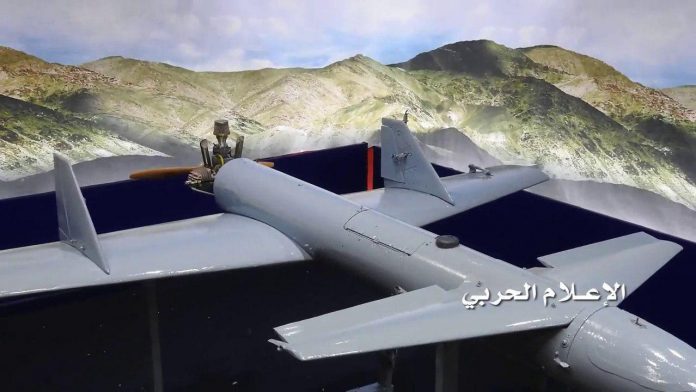 Al-Thawra Net
Yemen's Ansarullah movement has considerably upgraded the precision of its armed drones, the Wall Street Journal reported in a new report, describing the group as the "world's most proficient in using unmanned aerial vehicles."
"The Houthis [Western term for Ansarullah] have launched armed drone attacks with far more precision and reach than the US and its [Persian] Gulf allies have publicly acknowledged," the newspaper quoted people familiar with the matter as saying in its report.
"Its technology has evolved from small, propeller-powered surveillance drones to a larger plane-shaped model that can travel more than 900 miles at a speed of 150 mph, covering much of the Persian Gulf, including the Saudi and Emirati capitals," WSJ reporter Warren P. Strobel said.
"As time went on, the Houthis became more proficient, and were able to actually conduct attacks, armed attacks, using drones," he added.
The report pointed to Ansarullah's attacks on Saudi Arabia's Aramco refinery and on the airport of Abu Dhabi in 2018 as the first drone attacks of the group.
"Soon after the Aramco attack on July 26, 2018, the Houthis claimed that they had attacked Abu Dhabi Airport, hundreds of miles from Yemen. And it did damage a truck and disrupted the flights for a short period of time," WSJ reporter Dion Nissenbaum said.
"Of course the Houthis claimed the attack, and there were celebrations in the streets. The government of the Emirates denied there had been a successful drone attack. We were told by current and former officials that the US sort of went along with the [Emirati] story," Strobel said.
"The reason for the cover story was that there was this concern that had it gone publicly known that there was a successful attack, even though the damage was somewhat marginal, it could have had widespread economic ramifications for UAE and other countries in the [Persian] Gulf region," he added.
According to Strobel, several sources later told the Wall Street Journal that "despite the denial at the time, this attack did indeed happen."
The WSJ report also highlighted a Yemeni drone attack on an air base in the country's southwestern province of Lahij in January 2019, during which General Saleh Zindani, Deputy Army Chief of Staff of Saudi-backed puppet president Hadi, sustained severe injuries and later succumbed to the wounds.
The report described the attack as "the world's first known assassination of a foreign government official using a drone."
"They are probably the most proficient group around the world, outside of governments, in using drones," Strobel said.