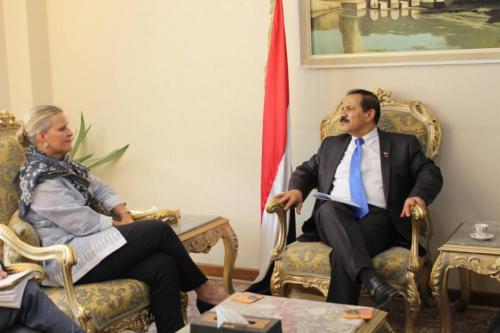 Al- Thawra Net
Yemeni Foreign Minister Hisham Sharaf Abdullah has met with Lise Grande, the UN Humanitarian Coordinator for Yemen.
During the meeting, the Foreign Minister handed Grande a message from the President of the Supreme Political Council, Mehdi al-Mashat, addressed to UN Secretary-General António Guterres and a number of presidents in friendly countries.
The letter included a summary of the statements and statistics of crimes committed by the Saudi-led aggression coalition
The Foreign Minister stressed the support of the National Salvation Government for all steps of a peaceful political solution to end the aggression in order to achieve a sustainable peace that would restore the security and stability of Yemen, as well as lift the suffering of the Yemeni people and preserve the security of stability in the region.
During the meeting, the efforts of the United Nations Relief and humanitarian offices in Hodeidah Province were discussed following the unilateral redeployment implemented by the representatives of the National Salvation Government.
Minister Hisham Sharaf Abdullah reiterated that the Salvation Government continues to provide facilities to all the offices of the United Nations Relief and humanitarian organizations, and agencies operating in Yemen, including the Office of the UN envoy responsible for the political file.
"The Saudi-backed side is trying to divert attention from the origins and essence of Yemen's aggression through irresponsible media incitement to the work of the offices of United Nations organizations, programs and agencies operating in our country that play a humanitarian role in serving the people," the minister said.
He noted that the invaders still put obstacles in the way of addressing the humanitarian catastrophe by deliberately delaying the entry of ships loaded with oil derivatives as well as the non-payment of salaries of all state employees and refusing to reopen Sana'a International Airport.
The minister furthermore warned of the repercussions to the delay in addressing the situation of the floating reservoir as a result of a prolonged halt, which could cause an environmental catastrophe in the Southern Red Sea region and Bab al-Mandeb.
In her turn, Lise Grande said the United Nations, its organizations, programs and agencies working in Yemen are working to support the Hodeidah agreement in order to ease the repercussions of the humanitarian catastrophe in Yemen.