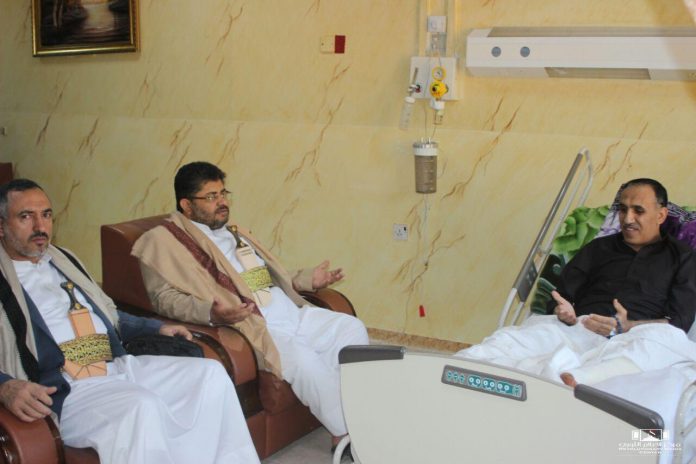 Al- Thawra Net
Mohammad Ali al-Houthi and Minister of the Interior Major General Abdul Karim al-Houthi have on Monday praised the patriotic positions of the President of Yemeni Media Union, Abdullah Sabri, in the face of the Saudi-led aggression coalition's media attacks.
During the visit, they condemned "the targeting of Yemeni journalists, which has become a clear approach to the aggression coalition in an attempt to obscure the reality of the brutal crimes committed against the Yemeni people."
Mohammad Ali al-Houthi and the Minister also checked the health condition of the President of the Union, who was wounded by an aerial attack last month.
They expressed their heartfelt condolences to Abdullah Sabri for the death of his mother and two sons, who have all three been killed in one single Saudi attack on their home in Raqas neighborhood in Sana'a, three weeks ago.
For his part, the president of the Media Union thanked them for the visit, and noted that "the attack came in a series of media targetings, and represents an additional witness to the violation of all international and humanitarian pacts by the coalition of aggression."
"This crime will deter us from continuing our media role in the face of the media war of the aggression," Abdullah Sabri said, adding "I am feeling a greater motivation from my colleagues to continue their national responsibility in the face of aggression."