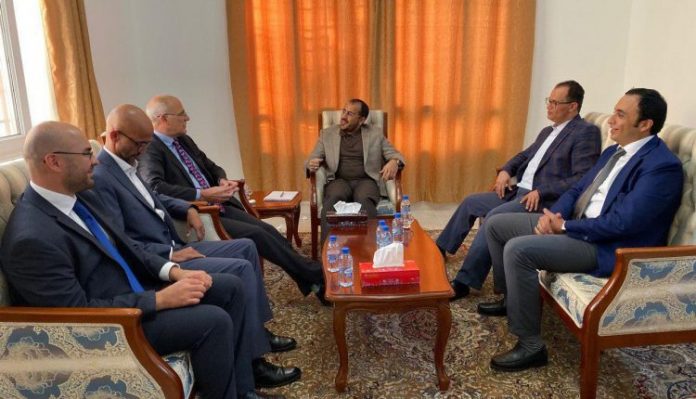 Al- Thaewra Net
The National Delegation met, in Muscat on Sunday, with British Ambassador to Yemen, Michael Aron, and his accompanying delegation.
During the meeting, they discussed a number of important issues on the humanitarian, political and military truce in light of the initiative announced by President Al-Mashat.
The British Ambassador hailed the Presidential Initiative as a real opportunity to achieve peace in Yemen and that dealing with it should be given serious attention to serve the consolidation of peace and stability and to facilitate negotiations leading to a comprehensive political solution.
The head of the National Delegation, Mohammed Abdulsalam, said that the delegation stressed that the presidential initiative came to show good intentions and concerns for peace and stability in Yemen and to end the aggression and siege, pointing out that "until the moment, no official response to the initiative, only the vague statements that do not show the needed levels of attention."
He said that "the situation lacks progress that may help turn the presidential peace initiative to a comprehensive calm," stressing that actions are what the Yemeni People demand; "ending the aggression and blockade to be able to describe this as positive progress."
The National Delegation considered that the continued detention of oil derivatives tankers in the Red Sea by the aggression is totally a violation of the Stockholm Agreement, pointing out that the aggression carried out this morning airstrikes targeting a truck in Al-Salif in Hodeidah, which is a clear violation of the Stockholm agreement and a negative response to the presidential initiative."
The head of the National Delegation said that the delegation listened during the meeting to a brief presentation by the representative of the British Department for International Development in Yemen Ashley Serenji on the problems facing the work of some organizations in Sana'a and ways to contribute to the delivery of assistance to all beneficiaries.
He pointed out that the National Delegation also listened to the current situation of the oil ship Safir (floating tank) and the potential risks of the ship's survival without evaluation of its current state, at the same time the delegation noted its readiness to cooperate in its assessment and repair.
The coalition of aggression prevented the arrival of diesel fuel to Safer for more than two years," Abdulsalam explained, "which led to a total cessation of operation and the situation has reached what it is now because of this arbitrary decision," he added. "The aggression will create an environmental problem if Safer fails that may occur at any moment and hold," he concluded.