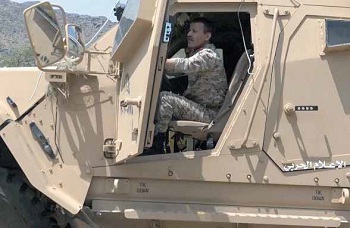 Al- Thawra Net
Yemen's Defense Minister Maj. Gen. Mohammed Nasser al-Atafi on Monday praised great triumphs made by the Yemeni army and popular forces in defending the sovereignty, independence and unity of Yemen.
During his speech before the fighters in frontline in Najran region, al-Atafi said that the fierce battles carried out by the heroes of the armed and popular on various fronts has no parallel in contemporary history.
The minister said, "the Yemeni fighter faced the latest military equipment and advanced capabilities of the enemy with his personal weapon."
"The strongest weapon of Yemeni fighters is trust in God and the justice of his cause, which is fighting for the defense of Yemeni land," al-Atafi added." The enemy's unlimited military possibilities had fallen under feet of the Yemeni army's fighters, as they attacked the military sites and fortifications of the enemy, achieving qualitative victories and taking over areas in the territory of the enemy."
The minister affirmed that the unity of leadership and position of the leader of the revolution al-Sayyed Abdul Malik al-Houthi and the political leadership represented by the president of the Supreme Political Council, is one of the reasons for victory for the Yemeni people.
Al-Atafi called on the Sudanese people and their political leadership to withdraw soldiers involving alongside the aggression states to kill Yemenis, warning of the serious consequences that await them if they continue to fight against the Yemeni people.
The minister warned the countries of the aggression of a series of surprises and great losses if the they would continue to kill the Yemeni people.