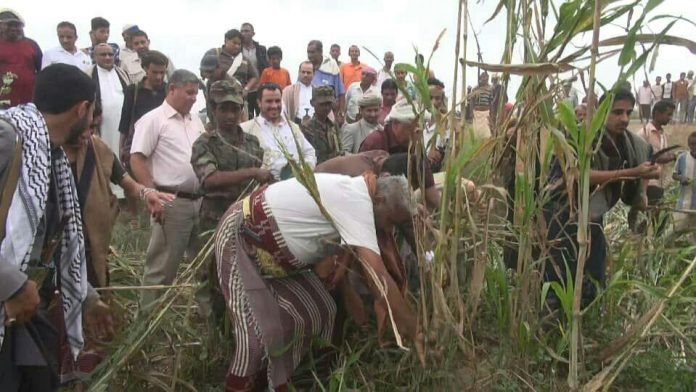 A civilian was killed and his child was wounded when their house was hit by a mortar shell fired by the coalition and its mercenaries at dawn, while two houses were burned by coalition machine guns, as they escalated their violations of the ceasefire agreement in the city of Hodeidah and its countryside.
The source pointed out  in a press statement that "the aggression forces continued their  escalation of its shelling of residential neighborhoods, and fired more than 13 artillery shells at the village of Melikid, south of the mountainous region in the district of Al-Tahita."
He pointed that "a second house inhabited by civilians in the Al-Jah area of ​​the Beit al-Faqih district was burned at dawn today, Thursday, as a result of being subjected to intense targeting by the aggression coalition forces and its mercenaries."
According to the source, "The forces of aggression continued at dawn on Thursday, intensively bombing the July 7 residential area and the 50th Street in the al-Hali district." He pointed out that  9 Katyusha rockets and artillery shells  targeted  the area.
"today, various areas of Hayss district were subjected to intense targeting by the aggrssion mercenaries  with heavy and medium weapons. The source said.
The source confirmed that houses and property of civilians were damaged by intense artillery shelling by the forces of aggression against the besieged city of Al-Durhaimi, and 41 mortar shells caused significant material damage to the houses east and west of the villages of Al-Aqdah and Al-Nizali in the same district."
The escalation of the coalition and its armed forces coincides with the bombing of the neighborhoods of Al-Hodeidah city and its countryside, as they continue to develop combat fortifications east of the besieged city of Al-Durhaimi, as well as the escalation of attempts to crawl into army sites and committees.