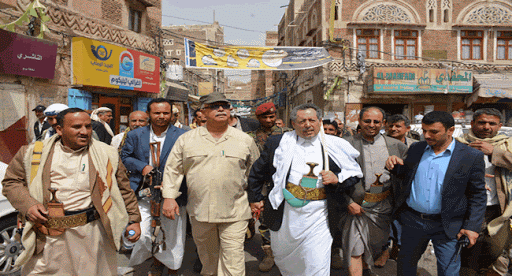 Al-Thawra Net
Prime Minister Dr. Abdulaziz bin Habtoor on Thursday visited the Great Mosque and a number of religious and historical monuments in the Old city of Sana'a.
The visit comes in the context of the inauguration of the third phase of rooting the faith identity and celebrating the first Friday of Rajab month.
The Prime Minister along with his two deputies for the security and defense affairs and the national vision visited the Great Mosque, whose construction dates back to the sixth year AH and the mosque's library, which includes a collection of manuscripts, Quranic chips and rare Yemeni books.
They also visited Imam Ali bin Abi Talib's Mosque in al-Halaqa Market, which is one of the oldest mosques in the city.
Following the visit, Dr. bin Habtoor made a press statement, in which he expressed his great pleasure with the visit to the old city of Sanaa and the Great Mosque, which was built by order of the Messenger (may Allah bless him and his family) at the beginning of the era of Islam.
He pointed out that this visit comes within the activity of the Council of Ministers under the title "Faith is Yamani and Wisdom is Yamani" and in consistent with the great faith revival announced by Leader of the Revolution Sayyed Abdulmalik Badr al-Din al-Houthi and the Supreme Political Council.