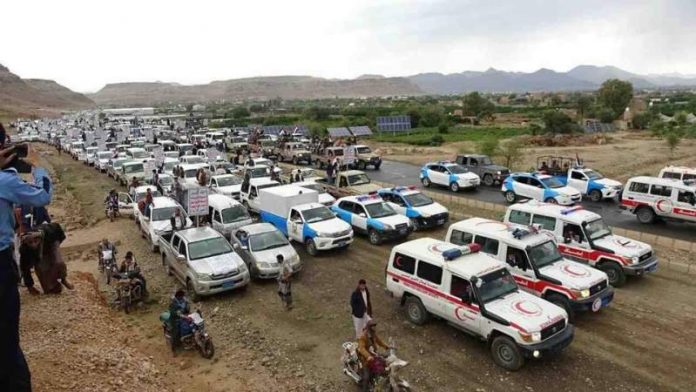 A large car rally in Sa'adah was held on Friday marking the International Quds Day, in compliance with the precautionary measures taken to tackle the coronavirus.
During the rally, Member of the Supreme Political Council, Muhammad Ali Al-Houthi, indicated that this day is a historic day to remind the nation and tighten it towards its sanctities.
He pointed out that Al-Quds is in a dangerous stage as a result of the client regimes that worked to domesticate the nation to prepare it for colonialism.
Al-Houthi called on the countries of the aggression, led by Saudi Arabia and the UAE, to head in the right direction to liberate Al-Aqsa, rather than closing some countries to their ports in the face of the Palestinian people, stressing that these regimes do not move except for what serves the US.
He stressed that true legitimacy is the legitimacy of Al-Quds, the capital of Palestine, and the issue of Palestine will remain the central issue of the nation, pointing out that whoever stands against the Yemeni people and targets it for five years is the same who stands in the face of the Palestinians and attacks them.
The Member of the Supreme Political Council pointed out that marking the International Quds Day affirms that the issue of Palestine is present in the hearts of the free people of the nation.
He called on the Saudi regime to accept the initiative of the Leader of the Revolution regarding Palestinian detainees, even as a matter of testing the seriousness of the deal. He also called on Jordan and Egypt to open ports to the Palestinians.
In his turn, the governor of Sa'adah, Muhammad Jaber Awad, indicated that Sa'adah's sons went out in car rally to express their adherence to their central issue, which the Yemeni people cannot fail, regardless of the difficulties.
He affirmed that the Yemeni people will remain at the forefront of the people that support the Al-Aqsa Mosque and the oppressed Palestinian people.