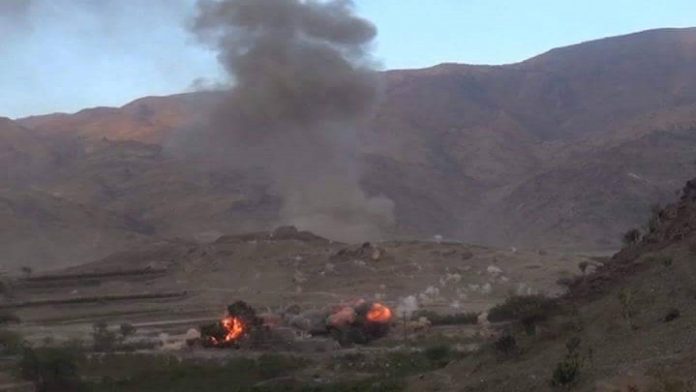 Al- Thawra Net
At least three children and a woman were injured by Saudi shelling in Saada province, while coalition aggression continued to violate the agreement in Hodeidah and launched 37 air raids on six provinces during the past 24 hours.
A military source told The Yemeni News Agency (Saba) that the Saudi -led coalition forces committed 55 violations, included the flight of eight fighter jets over Hays district,  and two spy planes in the airspace of two spy planes in the airspace of Al-Jah and Kilo 16, 12 breaches of artillery bombardment and 42 rounds of shelling.
In Saada, three children and an elderly woman were injured by Saudi rocket and artillery shelling on populated villages in the Border district of Shada, in conjunction with artillery   shelling targeted populated villages in Razih district.
The Saudi air forces carried out a raid on Kahlan camp and two raids on the Dhaher border district.
The sources indicated that the aggression coalition waged an airstrike on Haradh district of Hajjah province, and another hit al-Amashyah area in Harf Sufyan district as well as two raids targeting the telecommunication network in Amar Hill in Bani Sureim district of Amran province.
In Marib, the coalition aircraft conducted three airstrikes on Salb area of Majazer district, while 17 airstrikes hit Labant camp, al-Khasif and al-A'aqsha areas in Hazm district and Khub Washaef district in Jawf province.
The aggression air force also carried out 10 raids on the Redman and al- Sawadiyah districts of Bayda province, according to the source.