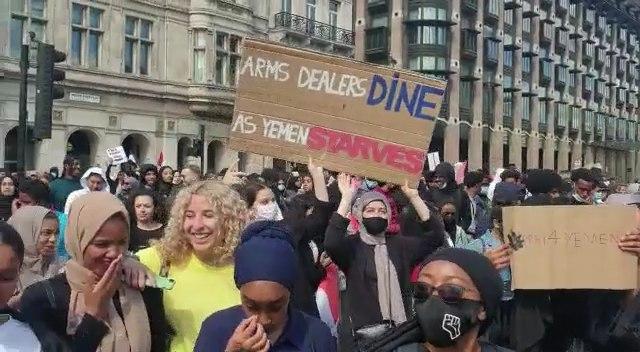 Al-Thawar Net
Hundreds of people took to the streets in London on Sunday to protest against the continued Saudi-led coalition aggression and blockade on Yemen.
A large number of activists, British citizens and members of Arab and Muslim communities in London, in front of the BBC headquarters, started a mass demonstration, in solidarity with the victims of Yemen who have been killed by aggression,
They called on the British government to intervene to stop the years-long aggression against Yemen.
Participants in the demonstration, the largest of the previous anti-aggression demonstrations, chanted slogans condemning the crimes of the US-backed Saudi Aggression coalition against Yemenis and rejecting the blockade imposed on the country.
They also carried banners on the streets of London, denouncing the war in Yemen and calling on the British government to stop military dealings and arms deals with the UAE and Saudi Arabia. They demanded the severing of military ties with Saudi Arabia, for its crimes.
The activists raised leaflets show the violations committed by the Coalition of aggression in Yemen, which resulted in the deaths and injuries of thousands and the displacement of millions, as well as famine and diseases that spread as a result of the blockade.