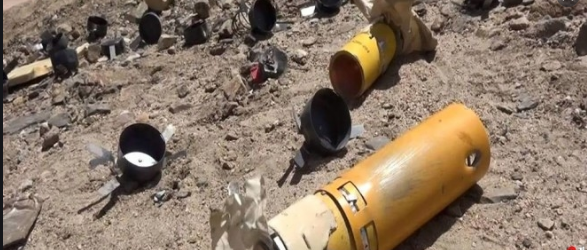 Al-Thawra Net
Four engineers of Yemen Executive Mine Action Centre (YEMAC) were injured when two bombs exploded while they were lifting the remnants of cluster bombs in Bran area of Nehm district of Sana'a province.
In a statement, Saba got a copy of it, the YEMAC clarified that a team was assigned to remove the remnants of the airstrikes of the aggression in the neighborhood of houses in Bran area at the request of citizens and during the team's lifting in Tuesday's morning two US-made bombs exploded, injuring four engineers.
The YEMAC's statement said the Nehm district and large areas of Jawf, Saada and other provinces are full of thousands of cluster bombs, which pose a threat to civilians.
It revealed that the first monitoring report of the aggression airstrikes' remnants amounted to more than six million cluster bombs, which portends a real catastrophe that threatens the lives of civilians in roads, villages, rural areas, valleys and even near residential neighborhoods.
Continuously, dozens of civilian casualties have been killed in Jawf and Saada provinces and Nehm district due to luster bombs that claim more lives than the Coronavirus, the statement added.
It noted that the center will carry out its continuation of its work and performance to serve all classes of society despite the lack of resources.
The leadership of the YEMAC and its executive body called on the Salvation government to quickly join the convention prohibiting and criminalizing the use of cluster bombs.
Saba