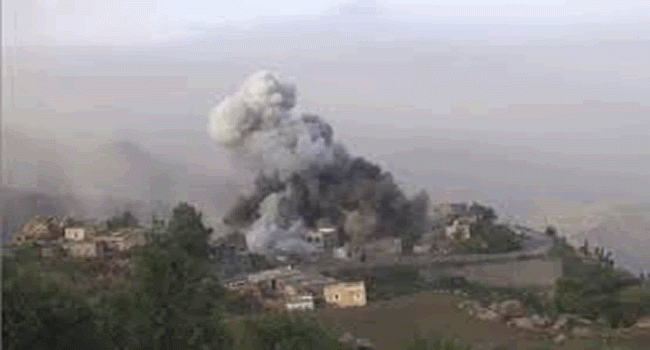 The aggression forces continued to violate Sweden's agreement in Hodeida province within the last 24 hours, a military official told SABA on Tuesday.
The official said that the aggression forces committed 316 breaches, including the flying of seven warplanes in the airspace of al-Faza, Hays, al-Jabalia, and al-Jah areas in Hodeida.
He added that 21 spy planes of the aggression forces flew over al-Tuhaita, al-Jabalia, al-Jah areas.
The aggression forces committed 64 artillery shelling violations, including 224 breaches with different bullets, the official said.
He pointed out that the aggression forces fired various calibers of machine guns at al-Dhebyani neighborhood, engineering college, and 50th St. in Hodeida city.
Saudi missile and artillery shelling targeted separate areas of Razeh border district in Sa'ada province, the official said.
Moreover,  a civilian was seriously wounded by the aggression snipers in Abadan area in Saber al-Mawadem district of Taiz province, according to the official.
A number of civilians' properties, including civilians' cars and livestock, were damaged in an indiscriminate artillery shelling by the aggression mercenaries on al-Jarrat village in the same province.
In Marib province, the aggression warplanes launched two raids on the districts of Majzar and Madghal and a raid on Rahba district.
The aggression warplanes launched bombing raids at Khab Washaaf district in Jawf province, the official concluded.