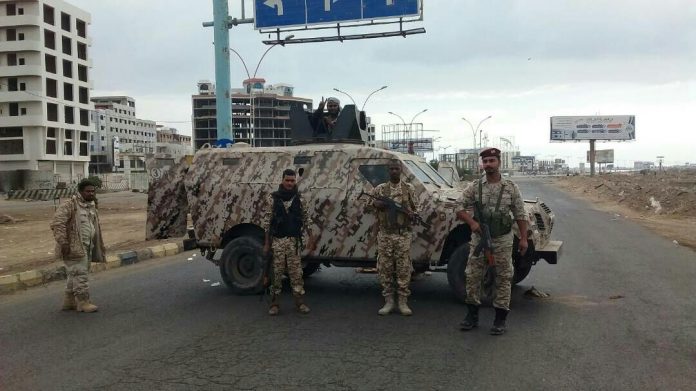 Residents of the occupied city of Aden expressed fears that the insecurity would continue and the city's directorates would become military barracks for armed militias that roam the streets and alleys of residential neighborhoods and turn them into confrontational fields.
They stressed that the proliferation of militias in Aden's districts and neighborhoods indicates that the tools of aggression are preparing to blow up the situation militarily in the city,
They pointed out that the explosions that rocked the neighborhoods and directorates of the city have become a daily concern that frightens the population.
In the first popular movement, dozens of citizens staged a vigil in al- Mansoura district on Sunday demanding an end to the daily clashes and battles taking place in the directorate.
The protesters called on the director of security and the governor of Aden to leave for their failure to stop the clashes and securing the city, noting that the clashes, which have been going on daily, have not stopped for weeks and have caused serious damage in the area.
At the vigil, they confirmed that the militants and the security forces loyal  Saudi led aggression targeted  citizens and provoking terror as a result of the ongoing clashes, the latest of which resulted in a grenade falling on the roof of a citizen's house.
A number of people were injured and a security  pickup vechile was  burned during clashes that broke out between the Saudi-led coalition factions in Aden over a land  dispute.
Residents of Bir Fadl area reported that the area has been tense for days between powerful security forces following a land dispute;
They pointed out that the situation worsened due to the armed confrontations broke out  on Saturday and Sunday .
Medium and light weapons were used in the clashes that left a number of injuries.
On Saturday, the city of Al-Sha'ab witnessed a powerful explosion caused by an explosive device planted by unknown gunmen next to the wall of the house of the director general of  Al-Buriqah directorate in Aden province.
He had escaped an assassination attempt with a similar device more than a month ago while driving in front of the Palace Hotel in Al-Hassawa area.
It should be noted that the directorates of Khor Makser, Mansoura and Sheikh Othman witnessed a series of bombings in the past few days.
Activists and followers of the security scene said that this deterioration of security is a result of a planned  scenario and a systematic plan implemented by  the tools of aggression aimed at creating terror among citizens and preparing the city for military confrontations that are imminent.