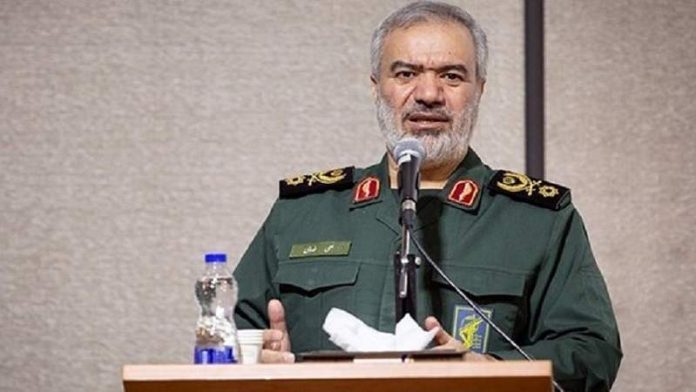 Deputy Commander of the Islamic Revolution Guards Corps (IRGC) Rear Admiral Ali Fadavi confirmed that the coalition of the Saudi-led aggression against Yemen is begging Iran to get out of the crisis.
"The Americans have not had a single victory against the Islamic Revolution over the past 43 years and the confrontation did not end after the sacred defense, it continued in other dimensions," Fadavi said in a statement.
According to Tasnim News Agency, he pointed out that wherever the fragrance of the revolution spread, it changed and developed, the best example of this is Yemen.
"In the last three months, two missile and drone exhibitions have been held in Yemen, and these are the equipment that are produced inside Yemen, a country that is 100% under siege," Fadavi added. "If all the Arab countries come together, such an exhibition will not be possible."
Fadavi reiterated that the purpose behind the presence of the Americans in the east, west and south of Iran and in Syria and Lebanon was to counter the Islamic Revolution, but they failed to achieve even a single victory.
"The Americans' escape from the region began a long time ago. The US and its allies today are in a situation in which they must find deterrence in confronting us, and they are in a passive and affected position in the face of the Islamic Revolution."
Regarding the situation in the Gulf, the top general said: "The Americans in the region could not form an alliance and in all the things they wanted to do, they did not succeed at all because it is impossible for making security to be created by someone who is the source of all insecurity in the world, while we are the source of security in intention and in practice; we did not act against the interests of the nations. And wherever we were present, security was created following our presence."
He added: "We are not affiliated with others in the military field, but we are the source of this field. We have a very good manpower in the country, and for this, we are pioneers in the military field."
Regarding the movements of the takfiri groups in the region, the deputy commander of the IRGC said: "When the United States cannot take action against Iran, we will not even allow its proxies to do so. We told the friendly countries that if they cannot control these terrorist groups, we will be able to eliminate them."