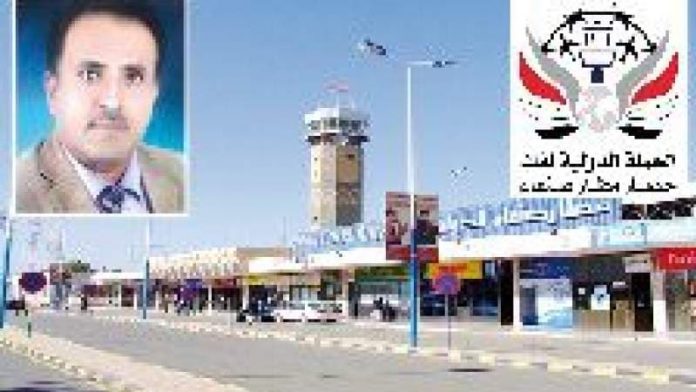 Hamid Abdel Kader Antar, head of the International Campaign to lift the siege on Sana'a International Airport, has said that the Saudi-led coalition has "an embarrassing stance to world public opinion as a result of the continued closure of the airport to civilian flights."
Antar stressed that the international campaign was able to convey Yemen's oppression to the outside world, and obtain the solidarity of dozens of international organisations and human rights activists, noting that they are putting pressure on the United Nations and the Saudi-led Coalition in order to quickly lift the siege of Sana'a airport.
" The coalition claimed that Sana'a Airport was being used for military purposes. This is not true, it is misleading and deceiving in order to escape from international pressure demanding a lift of the blockade and opening of Sana'a International Airport," he said in a statement to Yemenk newspaper "26 September".
"The international campaign is moving towards the path of political and media escalation in all countries of the world, to stage and organise protests that call for opening Sana'a International Airport in order to save patients, travelers, expatriates and students," Antar said, stressing that "Saudi money cannot triumph over morality, customs and international legal humanitarian conventions."
"Sometimes the UN strongly condemns the closure of the airport, and states that it demands the alliance of aggression to open the airport [but there is no] seriousness from the international community to issue a binding international resolution to the coalition of aggression to open the airport," he explained.
Antar said that the campaign is escalating and planning to hold vigils in the coming days with members of the Yemeni community in the United States of America, Great Britain, Germany and some other countries around the world to put pressures on the United Nations and the international community to continue demanding the opening of Sana'a International Airport.
Antar concluded by Saying that "the victories achieved by the army and Popular Committees on various fronts will impose on the enemy the need to strive for peace in Yemen and to activate dialogue, diplomacy and a comprehensive political solution, to ensure that the suffering of the people of the past seven years of the war on Yemen, is over".