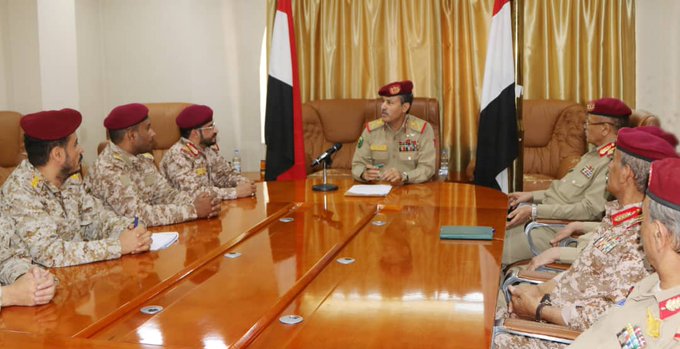 Yemen's Defence Minister Major General Mohammed Nasser al-Atifi confirmed on Saturday that "Yemen and its leadership in Sana'a prioritise security, stability and honourable peace based on equal treatment, in a manner that does not affect national sovereignty."
Major General Al-Atifi said during his meeting with Chairman of the National Military Committee, Major General Yahya Abdullah Al-Razami and members of the committee, "We are with the peace of the brave, whose main ceiling is the supreme interest of the Yemeni people."
He confirmed that "when the international community turned to the request for the international armistice, we were and are still the first to adhere to it and lay correct and positive foundations for it, despite the violations and abuses committed around the clock."
"The aggression and its followers wanted a deceptive truce during which they sought to mobilise and rearrange their ranks," he added.
The Minister of Defence renewed the call for the aggression forces to listen to the messages of advice sent by the Leader of the Revolution Sayyid Abdul-Malik Badr Al-Din Al-Houthi, and to comply with them and understand their content well.
"If the enemies do not heed the serious and honest Yemeni advice, they will only have themselves to blame, because we have repeated the warnings many times," he added.
Major General Al-Atifi said, "We are here, and from a position of responsibility, direct these points to them, which they must understand its essence and dimensions:
First: What prevents us from shoving the noses of the arrogant tyrants and the aggressors in the dirt is the word and the position announced by the leader of the revolution.
Second: We worked on defining and renewing the bank of our goals in the depths of the countries and capitals of the aggression countries, and the upcoming events would astonish them if they persist in the siege and aggression.
Third: We assure them that the stockpile of strategic ballistic deterrent weapons is sufficient for decades and continuous confrontations.
Fourth: The Yemeni military industries, industrial competencies, and Yemeni experts are working day and night and in full swing to enhance our military arsenal of strategic, tactical and ballistic missiles, as well as high-tech and high-precision drones.
Fifth: We advise the aggression coalition and its followers, and we repeat our advice, to not to test our capacity for patience and endurance, because we are capable of inflicting great pain upon them.
The Minister of Defence expressed his appreciation and praise for the honest efforts made by the Military Committee as it has performed its national duty in the negotiations in the Jordanian capital of Amman.