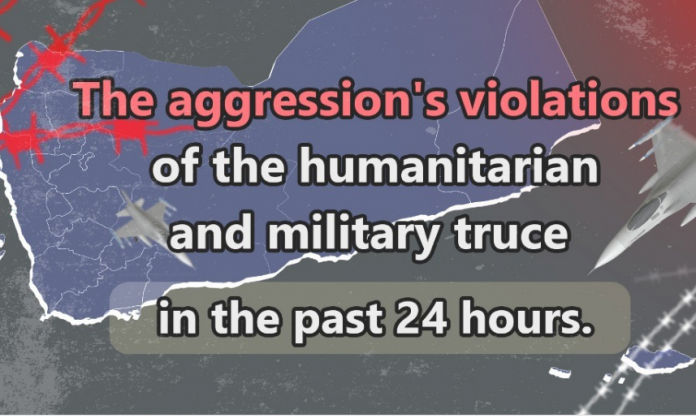 The forces of aggression and their mercenaries committed 128 violations of the humanitarian and military truce during the past 24 hours, a military official has said.
The official added the aggression's violations were represented in two violations by the flight of hostile warplanes in the airspace of Haradh district in Hajjah province and in Jizan region.
He said the aggression forces spy planes carried out 37 violations by the flight in the airspace of Marib, Taiz, Hajjah, Jawf, Saada, and Dhalea provinces.
The official confirmed the aggression forces committed two violations as they created fortifications east of Dar al-Nasr in Jizan region and in the north of al-Madafen in Saada province.
He pointed out that a violation was recorded with missile shelling at the army and popular committees' sites in the al-Balaq al-Sharqi area in Marib province.
The official pointed out that 65 violations were monitored by shooting at citizens' homes, the army and popular committees sites in Marib, Taiz, Hajjah, Saada, Dhalea, and Bayda provinces and the fronts beyond the border.
He confirmed that 21 violations were recorded with artillery shelling on Marib, Hajjah, Saada, and the border fronts, where the mercenaries targeted with artillery shelling the army and popular committees' sites in the al-Balqa al-Sharqi, al-Rawdah and Mala'a areas in Marib
The mercenaries of the aggression also targeted, with intense artillery, the army and committee sites west of Haradh area in Bani Hassan distruct, and southeast of Hiran district in Hajjah.
He indicated that intense artillery bombardment of the mercenaries targeted the sites of the army and the popular committees in Al-Musdadahath al-Qadeem, al-Qarna and al-Ghour areas in Saada while intense artillery bombardment targeted the sites of the army and committees in the Bekaa, al-Suh, al-Fakhida and al-Amoud areas in Najran region and on citizens' farms in Asir region.