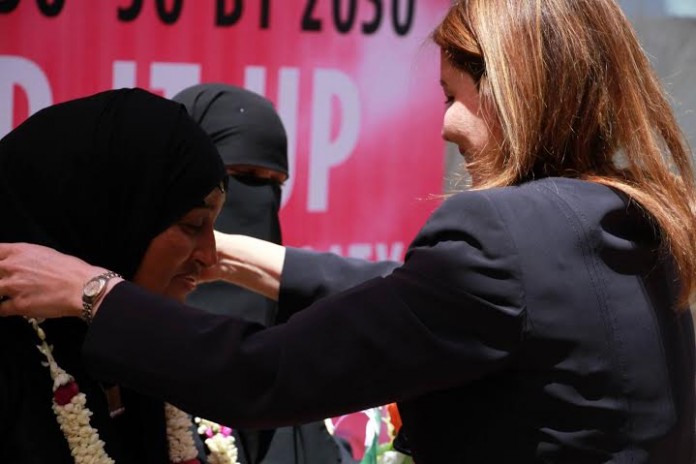 Al-Thawra Net
"The women of Yemen play a vital role in the current crisis", said Mr. Jamie McGoldrick, UN Resident Coordinator/Humanitarian Coordinator in Yemen.
Coinciding with the celebrations of the World on the International Women's Day towards global attention on gender equality and issues of women's rights, and despite the current unstapled situation in Yemen, UN WOMEN in Yemen was keen to assess the effectiveness of this remarkable occasion by celebrating and organizing an event in the UN common premises in close collaboration with the office of the UN Resident Coordinator in Yemen. The ceremony started with a welcome speech by UN Resident Coordinator Mr.Jamie McGoldrick who stressed the important role played by women in building their community.
"Their personal strength, and sense of community and courage will not only support the country through the current conflict, but will provide the basis for a durable peace and help put Yemen on a path to development that its citizens deserve," McGoldrick added.
Ms. Dina Zorba, Head of Office/Representative UNW-Yemen, indicated in her speech, "No peace is attainable without the participation of women. So let us work together, women and men to lead Yemen into a new history shaping the country's future, a future of a peaceful and a thriving Yemen for all".
Towards unifying the effort to achieve gender equality and to mark this occasion, UN Women in Yemen initiated to deliver inspiring messages to the Yemeni Women on the occasion of International Women's Day in 2016.
The messages presented from the Special Envoy of the UN Secretary General to Yemen, the Resident Coordinator of the United Nations, and the United Nations Agencies in Yemen. These messages were distributed to Yemeni women all around the country through UN Women partners from civil society organizations, Women National Committee and Yemeni Women's Union.
A number of Yemeni women leaders, representatives of UN agencies, and the Office of the Special Envoy attended the ceremony. The event permeated several musician lyric on the occasion of International Women's Day, provided an honorary shield to the special UN staff's quotes on the occasion of International Women's Day, and distributed roses to a number of UN female staff who were honored.