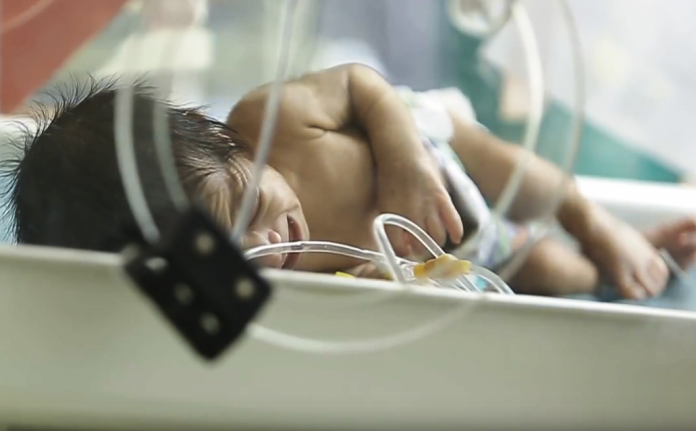 Al-Thawra Net
Save the Children organization (SCO)said today the humanitarian crisis in Yemen is worsening by the day, with the latest statistics revealing more than 14 million people are in desperate need of food.
"One in three Yemeni children under five – approximately 1.3 million – are suffering from acute malnutrition. Nine governorates are now in a state of emergency, just one step away from being declared a 'famine', including the besieged city of Taiz and the major port city of Al Hodeidah," Save the Children added.
According to the SCO malnourished babies aged between three and twelve months are fighting for life in intensive care units at Al-Sabeen Hospital in the capital Sana'a.
Edward Santiago, Save the Children's Country Director in Yemen, said: "We're particularly alarmed at spiralling malnutrition amongst babies and children. Every day, more and more families face an increased risk of being pushed into acute malnutrition as supplies dwindle, prices skyrocket and poverty rises.
"Even when Yemeni families can get their critically ill babies to a functioning hospital, the electricity supply is patchy and fuel to run backup generators is scarce, meaning lifesaving equipment does not always function properly. The catastrophic food crisis in Yemen is clearly getting worse, and as we have seen so many times, it's babies and children who suffer the consequences most," he said.
Save the children pointed out that the latest statistics reveal more than 2.7million people – out of a population of – have been displaced owing to the conflict, meaning they have lost their livelihoods and jobs. So even when people can find food to buy, many cannot afford it and their families go hungry.
Save the children said that more than 1,600 schools destroyed or shut, it is unsurprising that a third of school age children in Yemen do not have access to education. Santiago said: "The psychological impact of the conflict has been devastating for children with many showing symptoms associated with distress and trauma including anxiety, low-self-esteem and lack of concentration.
"We support 300 children in our Child Friendly Spaces in Sana'a – giving them the opportunity to play, learn, create and spend time with their friends in a safe place where they can forget what they've been through. But ultimately their recovery requires an environment in which they are not in daily fear for their lives," Santiago added.